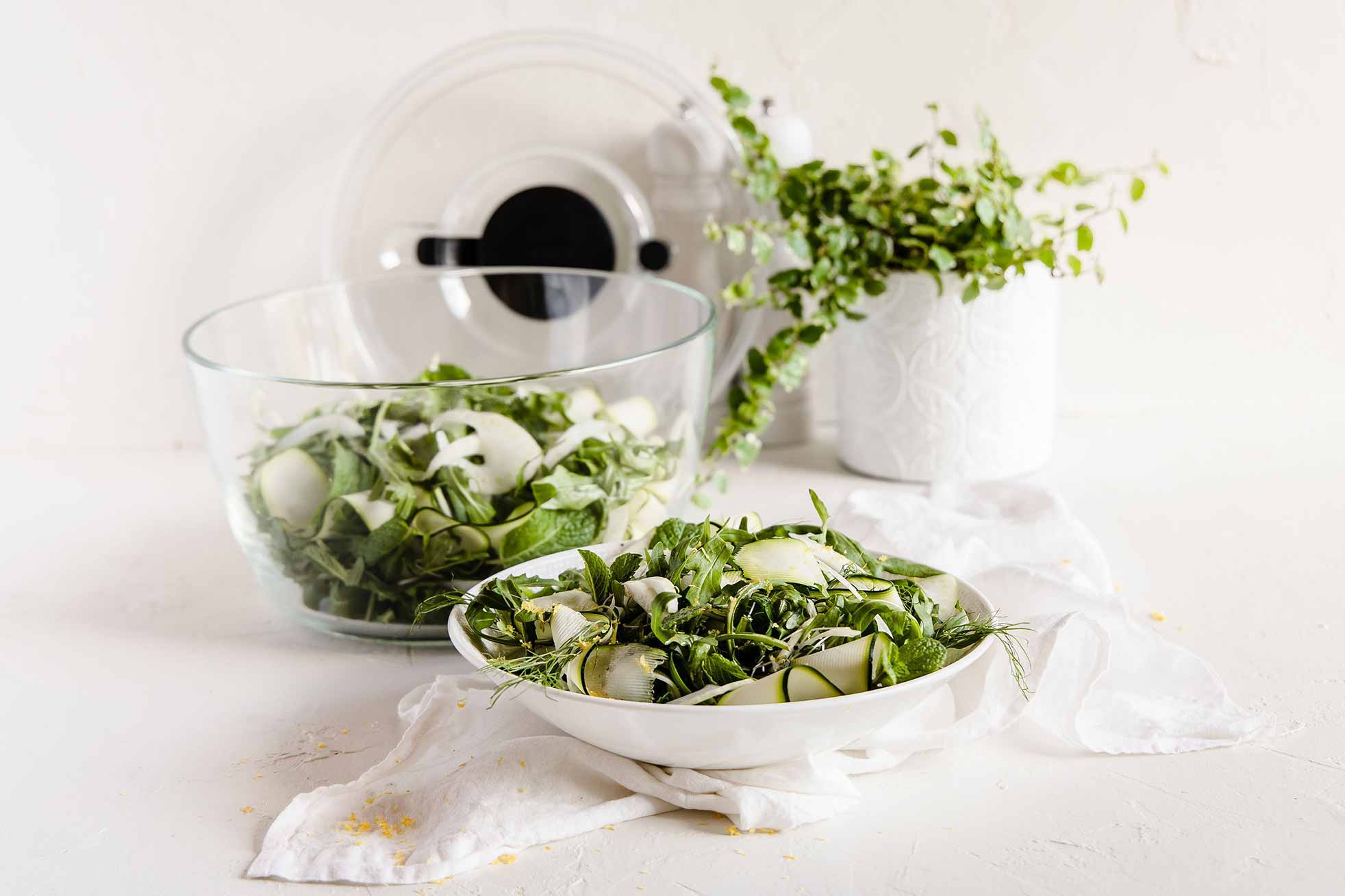 You know it's spring when you sit down to a salad that is bursting with crisp textures and fresh flavours. Combine that with a hit of zesty lemon dressing and your spring fling is complete. You can mix and match the fresh greens, or the herbs, with what you have on hand or your preferred tastes, just make sure to wash and spin the greens to maintain quality and texture.
Serves 6
Preparation Time: 10 mins
Salad:
500 grams zucchini, peeled into ribbons
300 grams fennel, thinly shaved
120 grams rocket
¼ cup mint leaves
2 Tablespoons dill fronds
Lemon zest for garnish
Dressing:
½ cup lemon juice (approx. 3 lemons)
Zest of 1 lemon
1 clove garlic, minced fi nely
1 teaspoons salt
½ teaspoon ground black pepper
1 teaspoon Dijon mustard
2 Tablespoons honey
1 cup light olive oil
This dressing can be kept in the
fridge for up to two weeks.
Return to room temperature and
shake well prior to use.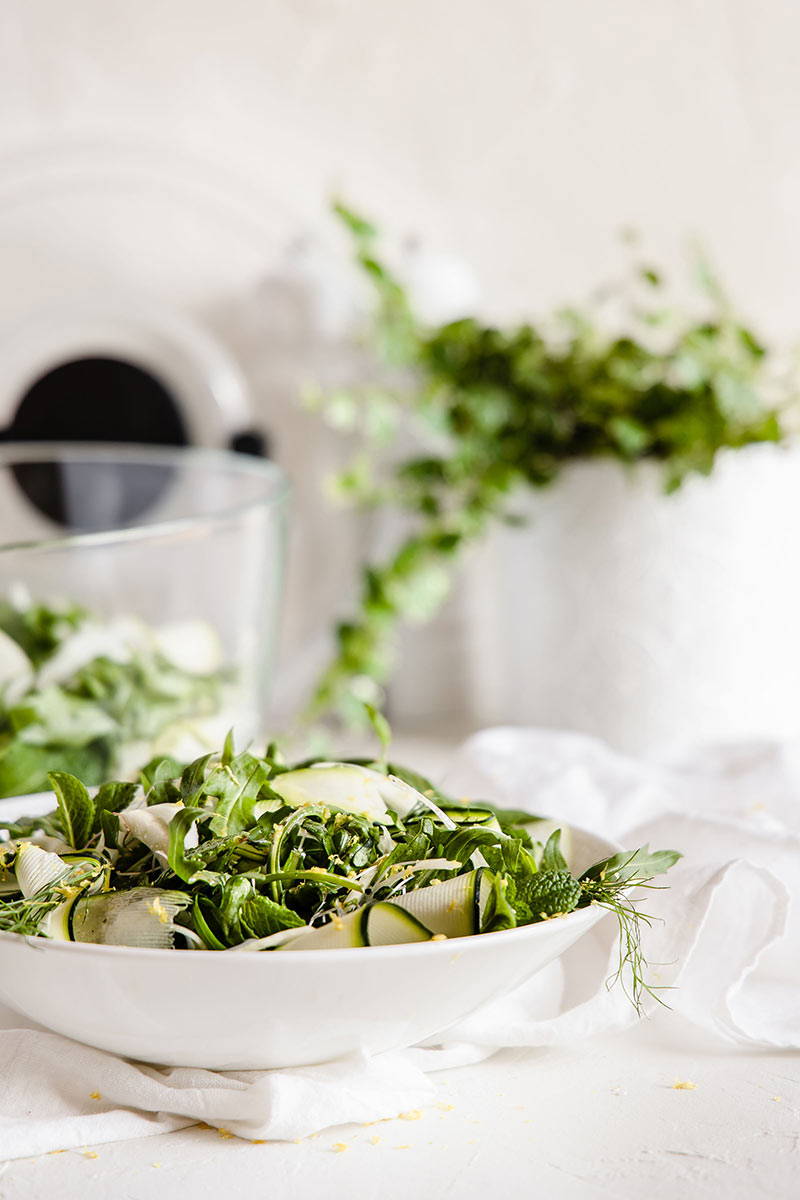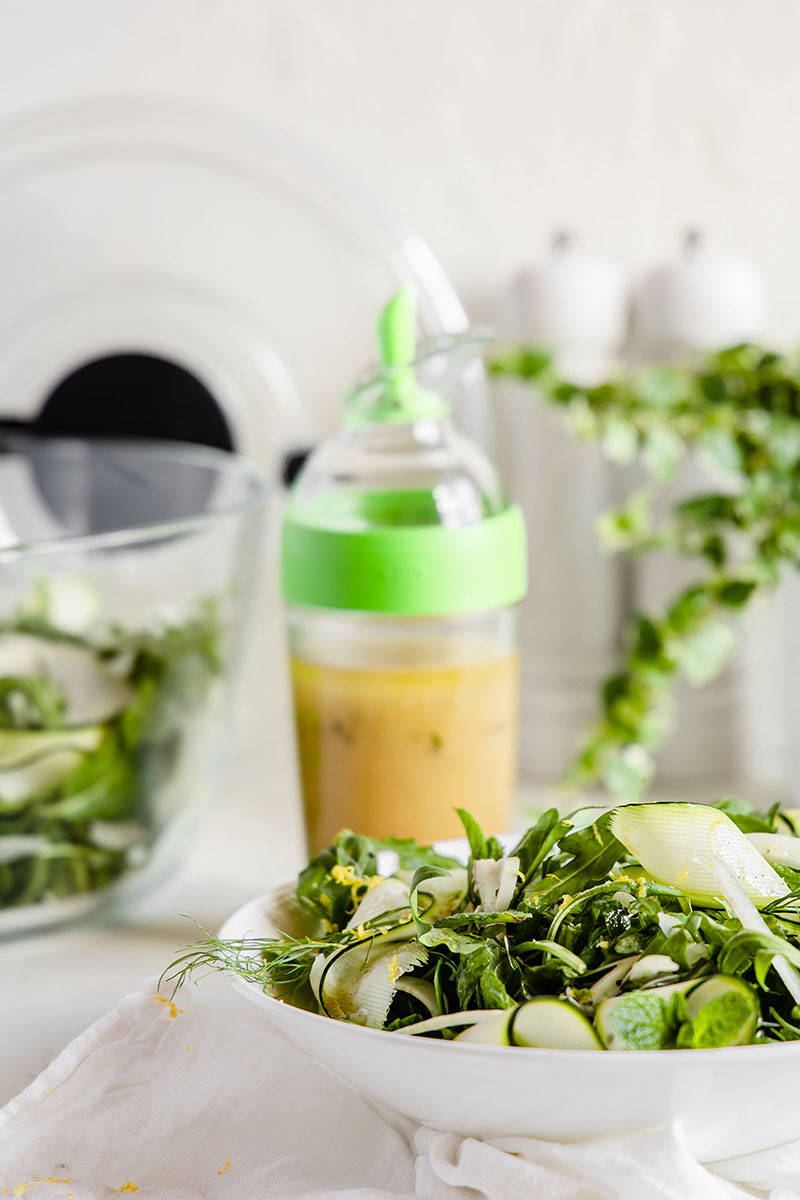 Place the rocket leaves and the shaved fennel into cold water and rinsewell, this will not only remove any impurities but will maintain crispness.

Remove from the water and place in the spinner basket, before spinningto remove excess water.

Remove the basket and base plate from the glass salad bowl and dryout any remaining water.

Place the rocket and fennel in the glass bowl and then add the zucchiniribbons, fresh mint, and dill sprigs.

Use clean hands to toss well until evenly distributed.

Place all of the dressing ingredients into your shaker and shake welluntil emulsified.

Prior to serving, drizzle about ¼ cup of dressing over the salad and tossto coat.

Add additional dressing to taste.

Serve with a garnish of fresh lemon zest.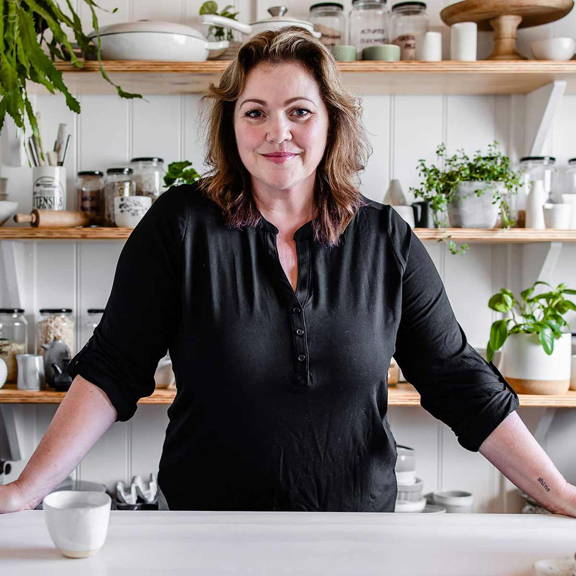 "I'm here because I'm lucky enough to do what I love every day. And I want the same for you."
Naomi Sherman is a food photographer and stylist who creates edible artistry in her studio located in the beautiful Huon Valley.
A firm believer that there is no one-size-fits-all approach to good health, Naomi loves to create recipes that are fresh and bursting with flavour, with an emphasis on gluten and refined sugar free dishes.
Her recipes, along with her award-winning cookbook Edible Heirlooms, can be found on Naomi's website.
At OXO, we look at everyday objects and activities and we see ways to make things simpler, easier, more thoughtfully designed–better.
We notice things. We notice pain points and pains-in-the-neck. We notice problems people don't realize are problems until we solve them. We see opportunities to improve a product or a process, or a part of everyday life, and we make things that make things better.
Our products make everyday life easier, in every room of your home. From cooking and baking to brewing and entertaining to cleaning and organizing, to everyday adventures with little ones. We design tools that fit comfortably in your hand and in your life.