Cake Tins, Pans & Cake Making Supplies
Cake Tins & Pans
Confectionery Craftsmanship.
Elevating Delights with Cake Tins, Pans &
Essential Supplies, Crafting Sweet Memories in Every Slice.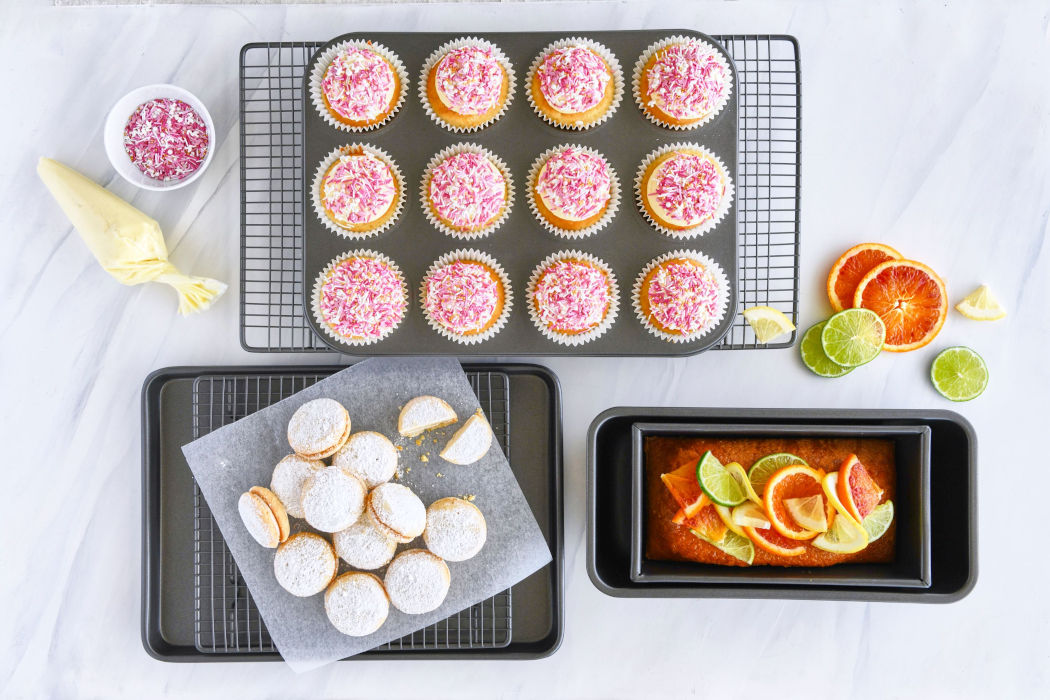 If you're ready to transform your cakes into delectable masterpieces, enjoy our curated selection of premium cake tins and pans that are your ticket to sweet success. Step into a world of exceptional cake-making supplies and kitchenware crafted brilliantly by Europe's top brands.
Our collection of cake pans, tins, and cake-making supplies is a playground for bakers of all levels. Whether you're a seasoned pro or just starting your baking journey, we have the tools to help you achieve cake-baking perfection.
In the world of cake making, the quality of your tins, pans & equipment can make all the difference. Our cake making supplies are, carefully selected from
renowned kitchenware brands
, are designed for durability and performance. We cover all your cake making needs, from basic round cake tins to intricately shaped pans.
Most Popular in this Collection
Essential Cake Making Supplies at Your Fingertips
Do you dream of crafting towering, multi-layered celebration cakes that steal the show at every occasion? Our selection of premium cake tins and pans allows you to transform your creative vision into edible reality. From birthday cakes to wedding cakes, we have the cake making supplies to make your cakes stand out.
Baking is an art, and every artist needs their tools. In our kitchenware section, you'll discover a treasure trove of items, including mixing and measuring tools, electric mixers, and beautiful cake stands. These essentials ensure that your cake-making process is as seamless as it is delicious. Plus, explore our exquisite dinnerware accessories to elevate the entire cake-eating experience, presenting every slice with the dessert plate and silverware it deserves.
Why Minimax is the Choice for Cake Tin Connoisseurs
Having quality supplies is key in the world of cake making. We've selected a range of the finest European brands, ensuring you have reliable equipment ready for when you need to bake a beautiful cake. Keep an eye on our exclusive sales, where you can acquire these essentials at great value.
Your convenience matters to us just as much as our shared love for cakes. That's why we offer a Click and Collect option for those who can't wait for delivery. Shop online, select your desired items, and have them ready for pick-up at your nearest store. It's a hassle-free way to enhance your baking experience.
We also take great pride in our prompt delivery service, which we offer for free on orders over $99. We want your new cake-making supplies to arrive promptly at your doorstep so you can start your cake-making ventures without any delay.
Join the Minimax Cake Baking Collective
Passion deserves recognition, especially when it comes to cake. At Minimax, we're all about giving something back. Join our Minimax Rewards program to unlock exclusive offers and benefits, providing your shopping experience with an extra slice of value. It's our way of acknowledging your dedication to the art of baking.
Minimax serves as your portal to achieving cake-making mastery. Our premium cake pans and tins, complemented by a range of essential kitchenware, streamline the entire process, ensuring you have all the essentials to craft delectable and visually stunning cakes. So, equip your baking practice today and explore your creativity with every multi-layered celebration cake you bake.