Preparation: 10 min
Cooking: 40 min
Resting: 0 min
1 tbsp cumin
1 tbsp cumin
1 pinch salt
1 pinch pepper
500 ml water
3 tbsp cream cheese
5 carrot
1 onion
50 ml single cream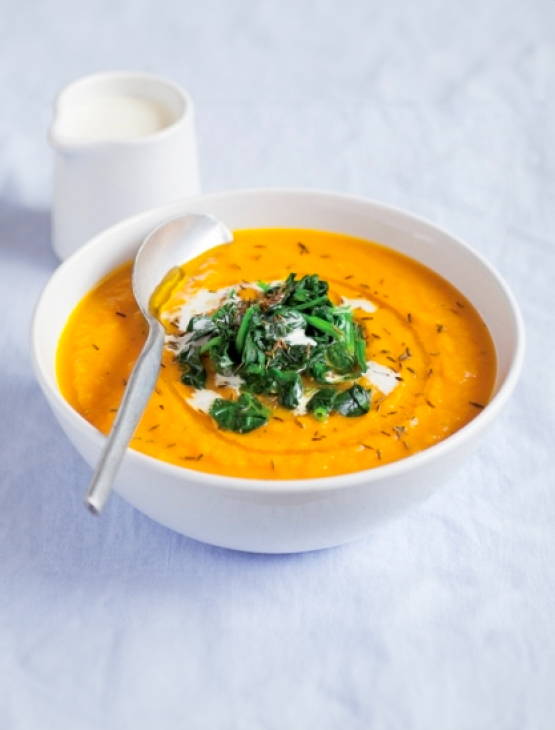 Quarter the onion. Peel and chop the carrots into 0.5cm slices. Add them to the metal bowl with the cumin, olive oil and water. Run the program.

CREAM SOUP | 30:00 / AUTO / 110°C
Add the cream cheese, salt and pepper through the opening. Run the program.

1 pinch salt

1 pinch pepper

3 tbsp cream cheese
Pour the soup into bowls, add a drizzle of cream and sprinkle with a few cumin seeds. To accentuate the flavour of the cumin seeds, you can quickly roast the seeds in a frying pan (without any added oil or fat).
CHEF'S TIP :
Depending on the season, vegetables such as the carrots may take longer to cook. If necessary, continue cooking for a few minutes. Garnish this soup with a tablespoon of fresh spinach (previously steamed for 10 minutes). For a variation of this soup, replace half the carrots with 300g peeled and diced sweet potato or 300g red lentils.
Why choose the Magimix Cook Expert for your home?
The Magimix Cook Expert is a revolutionary all-in-one solution that combines a diverse range of cooking functions into one incredible appliance. From time-saving capabilities to space efficiency, promoting healthy meals, ensuring precision cooking, and offering remarkable versatility, the Cook Expert excels. With a sturdy construction, extensive functionality, safety enhancements and user-friendly controls it is an enduring investment for modern, busy lifestyles.
Explore the Selection of Auto Programs
This intelligent device boasts cutting-edge capabilities such as chopping, blending, steaming, simmering, kneading, and even precision cooking. With the capacity to replace a multitude of traditional kitchen appliances, the Cook Expert represents a transformative addition to your cooking setup.