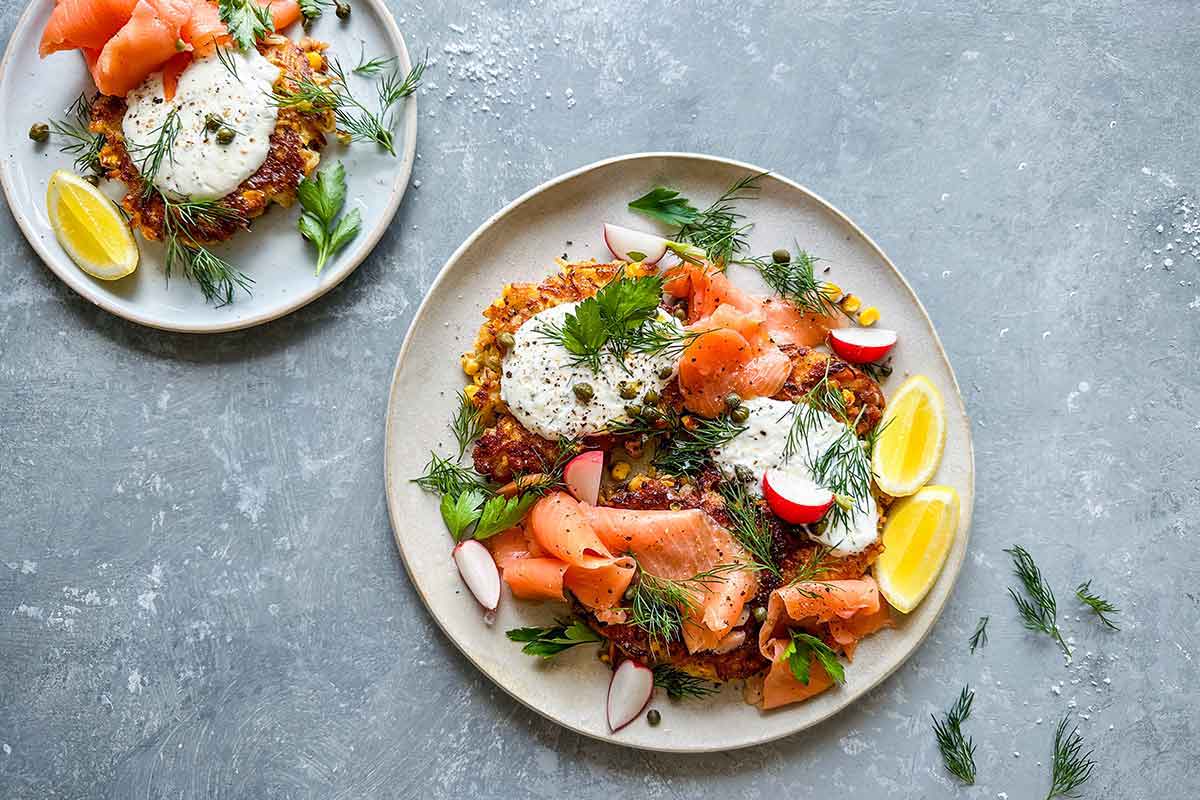 This dish is the perfect weekend brunch or casual lunch dish. If you're feeling extravagant, add some poached eggs and avocado on the side. The rosti can also be served with anything from fish or meats like chicken, beef or pork.
2 large carrots
2 large potatoes
2 cobb corn
1 eschalot, finely diced.
2 tbsp seeded mustard
1/2 cup besan or regular flour
1 large egg
Salt, pepper
80g unsalted butter
1 cup natural yoghurt
Small handful of dill, finely chopped.
200g sliced smoked salmon
2 tbsp tiny capers
4 radishes, cut into small wedges
To serve, lemon wedges, extra dill & flat leaf parsley leaves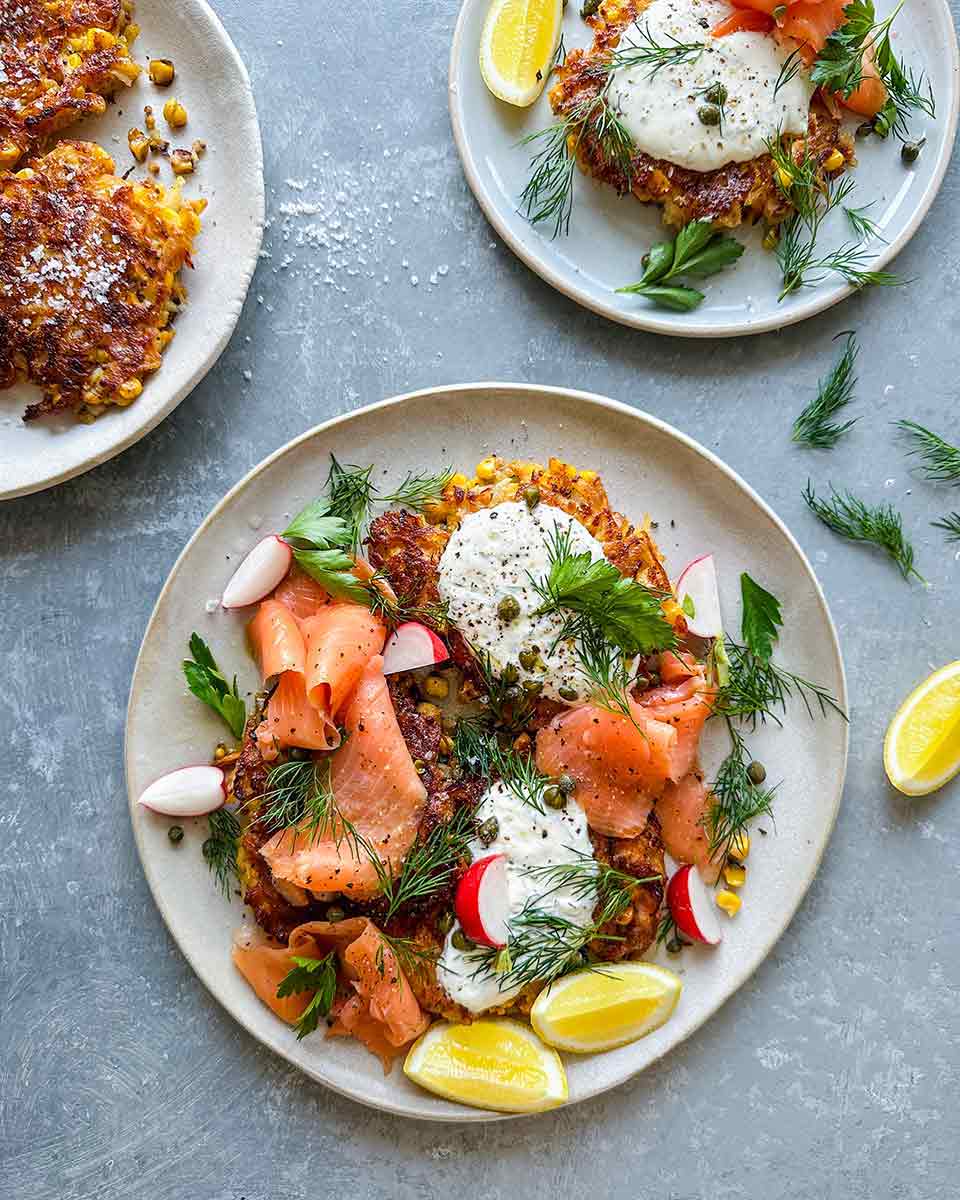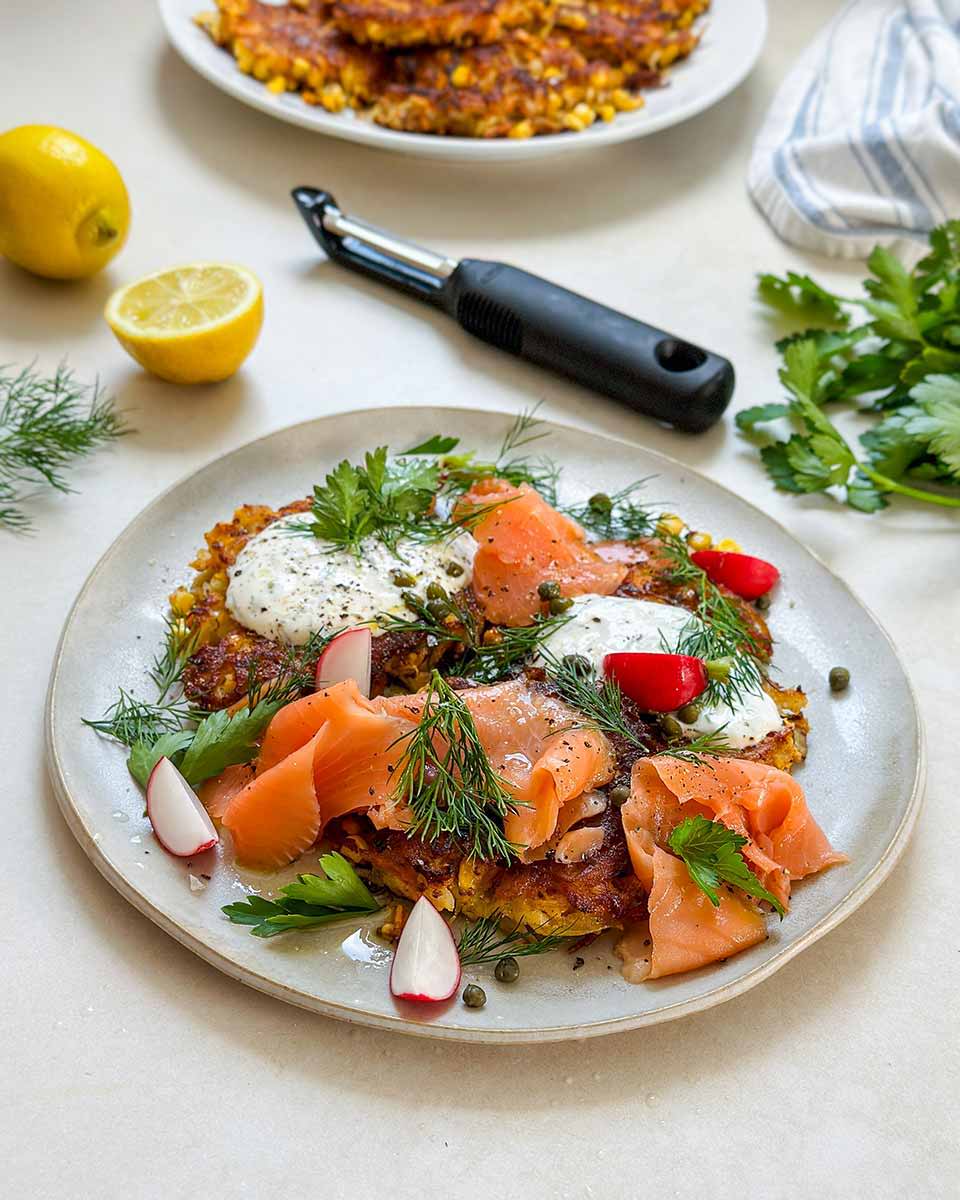 Grate the carrots and potato with the course side of an OXO box grater. Place them together into a clean cloth, wrap it up around & squeeze out the liquid from the veggies, discarding the liquid, then place them into a mixing bowl and add the corn, eschallot, mustard, flour, egg & seasoning. Mix well to combine.

Heat a large frying pan over a medium high heat & add half the butter. When foaming, spoon in half the mix, making 4 rosti. Gently press down, not too much, and allow them to cook for 4-5 minutes, adjusting the heat as necessary to get a nice golden crust.

Flip them over, using an OXO spatula & continue to cook for another 5 minutes, until cooked through and golden. Remove to a plate & repeat the cooking with the remaining mix.

Combine the yoghurt in a bowl with the chopped dill, lemon & seasoning to taste. Set aside.

Serve the rosti with a little herbed yoghurt spooned over, some smoked salmon draped around, some capers, radishes, extra dill, parsley scattered and lemon wedges.
Ingredients of Innovation
In 1990, Sam Farber founded OXO after he noticed his wife, Betsey Farber, struggling with a traditional metal peeler due to her arthritis. He believed there had to be a better way, and he created it. Fast forward to 2,000 product innovations, OXO is still dedicated to making everyday tasks, chores, and celebrations better.
For over 30 years, OXO has achieved global recognition due to its innovative and award-winning product designs, all starting from the iconic OXO Good Grips Swivel Peeler. With 100+ international design awards and recognition by institutions like the Museum of Modern Art, OXO consistently challenges conventions and offers modern design solutions.
OXO has always been dedicated to improving the daily lives of its customers by reimagining everyday tools and utensils.
Tom Walton is an Australian chef known for his culinary expertise. His expertise goes beyond food, encompassing a holistic lifestyle focused on health, fitness, and well-being. Tom lives and breathes his passion, reflecting a commitment to a vibrant and balanced way of life.