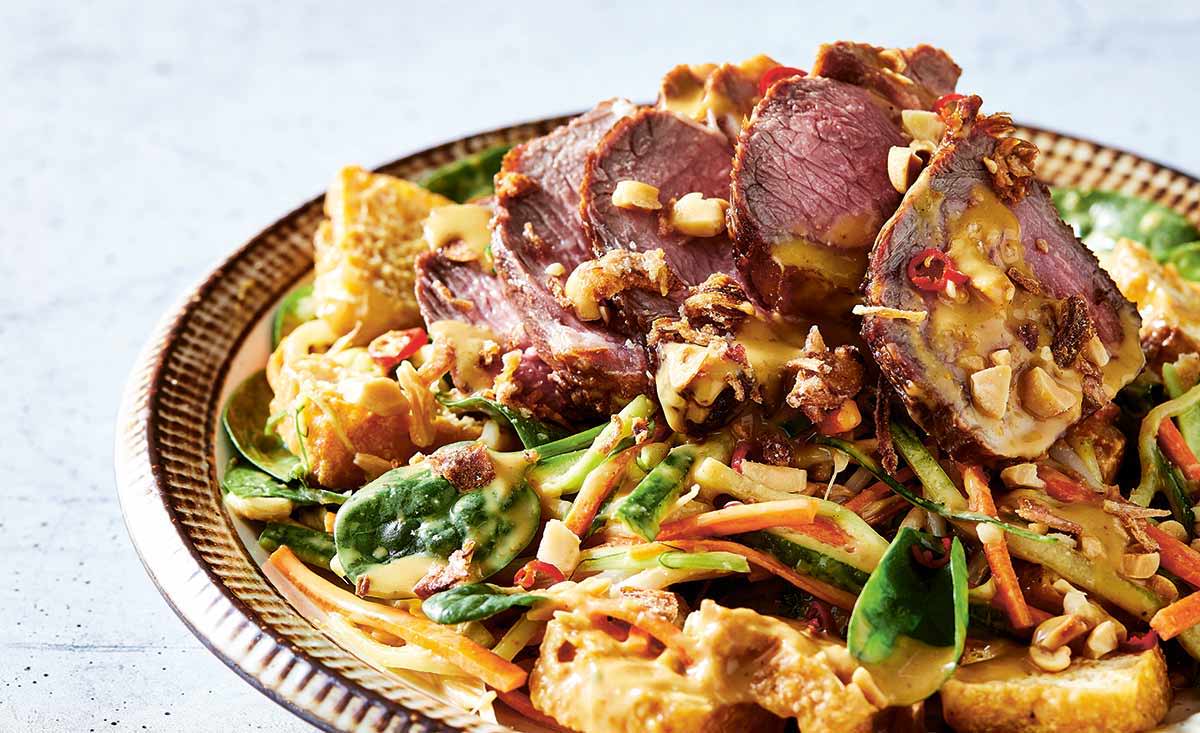 Recipe from Adam Liaw's new book 'Tonight's Dinner 2'
A bit gado gado, a bit satay, and a bit Sunday barbecue, this is one salad nobody would ever mistake for a side dish.
Serves 4
Prep 15 minutes
Cook 10 minutes
4 deep-fried tofu puffs (see tip)
1 tablespoon vegetable oil
300 g (101/2 oz) lamb leg or rump steaks
2 tablespoons kecap manis
2 Lebanese (short) cucumbers, cut into matchsticks
1 small carrot, cut into matchsticks
2 cups (180 g/61/2 oz) bean sprouts
2 cups (90 g/3 oz) baby
English spinach leaves
4 spring onions (scallions), finely sliced
3 tablespoons crushed roasted peanuts
3 tablespoons fried Asian shallots
1 red bird's eye chilli, sliced
Peanut Dressing
3 tablespoons peanut butter
1 teaspoon curry powder
1 tablespoon soy sauce
1 tablespoon fish sauce
1 teaspoon palm sugar (jaggery)
Juice of 1 lemon
2 teaspoons sesame oil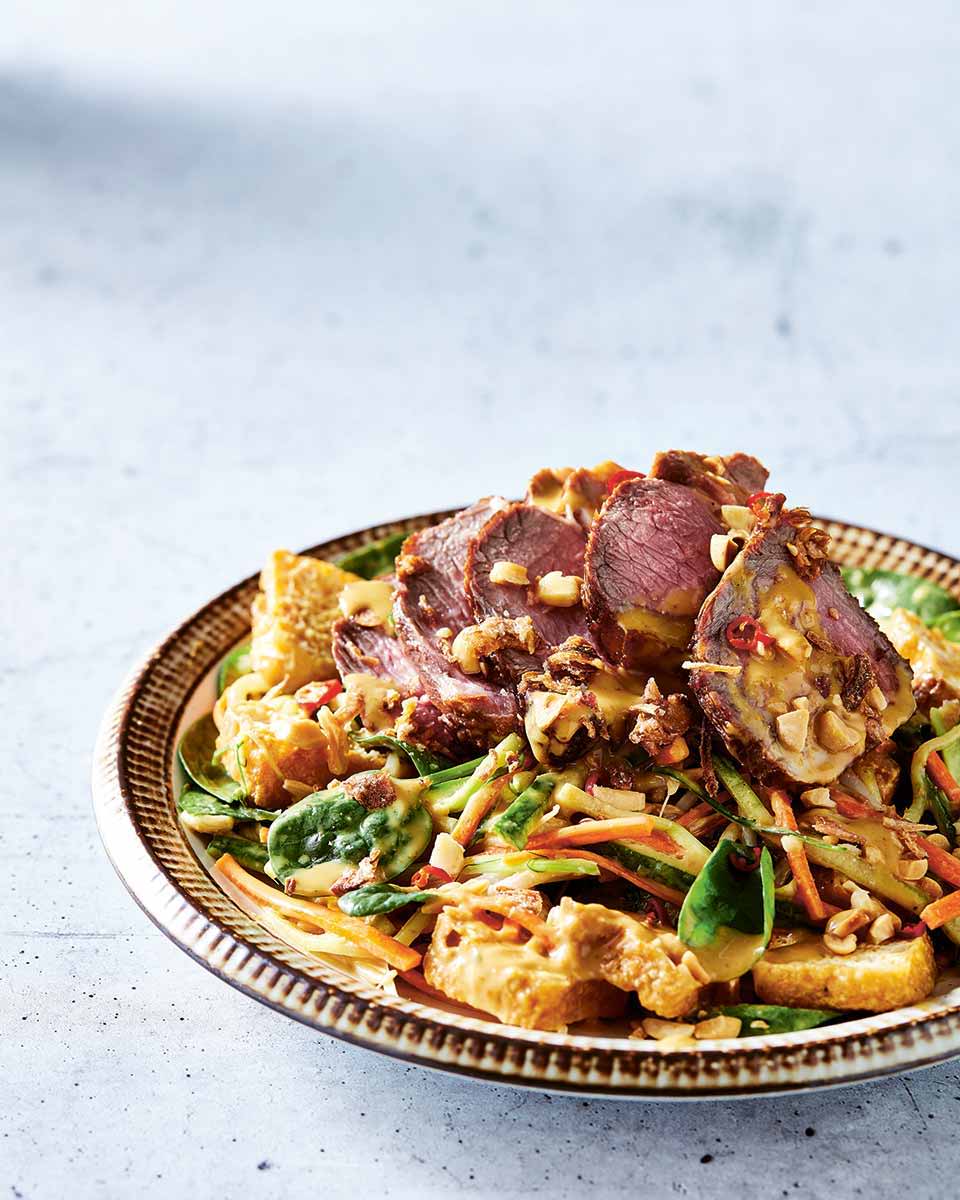 Combine the dressing ingredients and mix well. If the dressing is too thick, add a few tablespoons of water; it should be about the consistency of pouring cream.

Heat a frying pan over a medium heat. Dry-fry the tofu puffs for 1–2 minutes on each side until browned and crisp, then remove to a chopping board and cut into 1 cm (1/2 in) slices./p>

Add the oil to the pan and fry the lamb steaks until cooked to your liking, drizzling with the kecap manis at the end and allowing it to caramelise on the lamb. Set aside to rest for about 5 minutes.

In a bowl, combine the cucumber, carrot, bean sprouts, spinach and spring onion and mix with the dressing, reserving a little dressing for serving. Toss together well and transfer to a serving plate.

Slice the lamb and place on top of the salad. Drizzle with the reserved dressing and serve scattered with the peanuts, fried shallots and chilli.

TIP Tofu puffs are available fresh or frozen at Asian grocers. You've probably seen them before in laksa. In fact, a bit of laksa paste added into the peanut dressing wouldn't be a bad idea at all.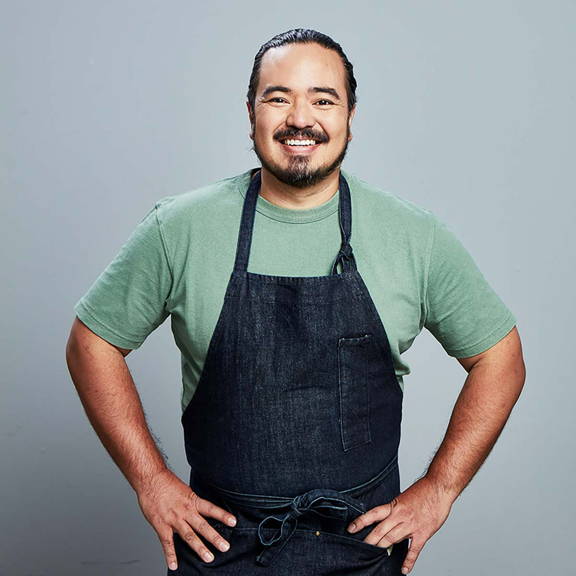 Adam Liaw is a Malaysian-born Australian cook, television presenter, and author. He has collaborated with Noritake to produce a collection of dinnerware that reflects the eating habits of contemporary Australia.

For the latest issue of the Minimax magazine, we sat down with Adam Liaw to ask him about this latest dinnerware range with Noritake, his upcoming cookbook as well as his kitchen favourites.
Adam Liaw Everyday Dinnerware
The Adam Liaw Everyday collection by Noritake is crafted from fine porcelain and features elegant shaping, soft ivory tones, and a timeless look. With sustainability in mind, the plate and bowls are designed to cover each other for reheating food without the need for plastics. Enjoy a smaller footprint for your storage space and dishwasher.