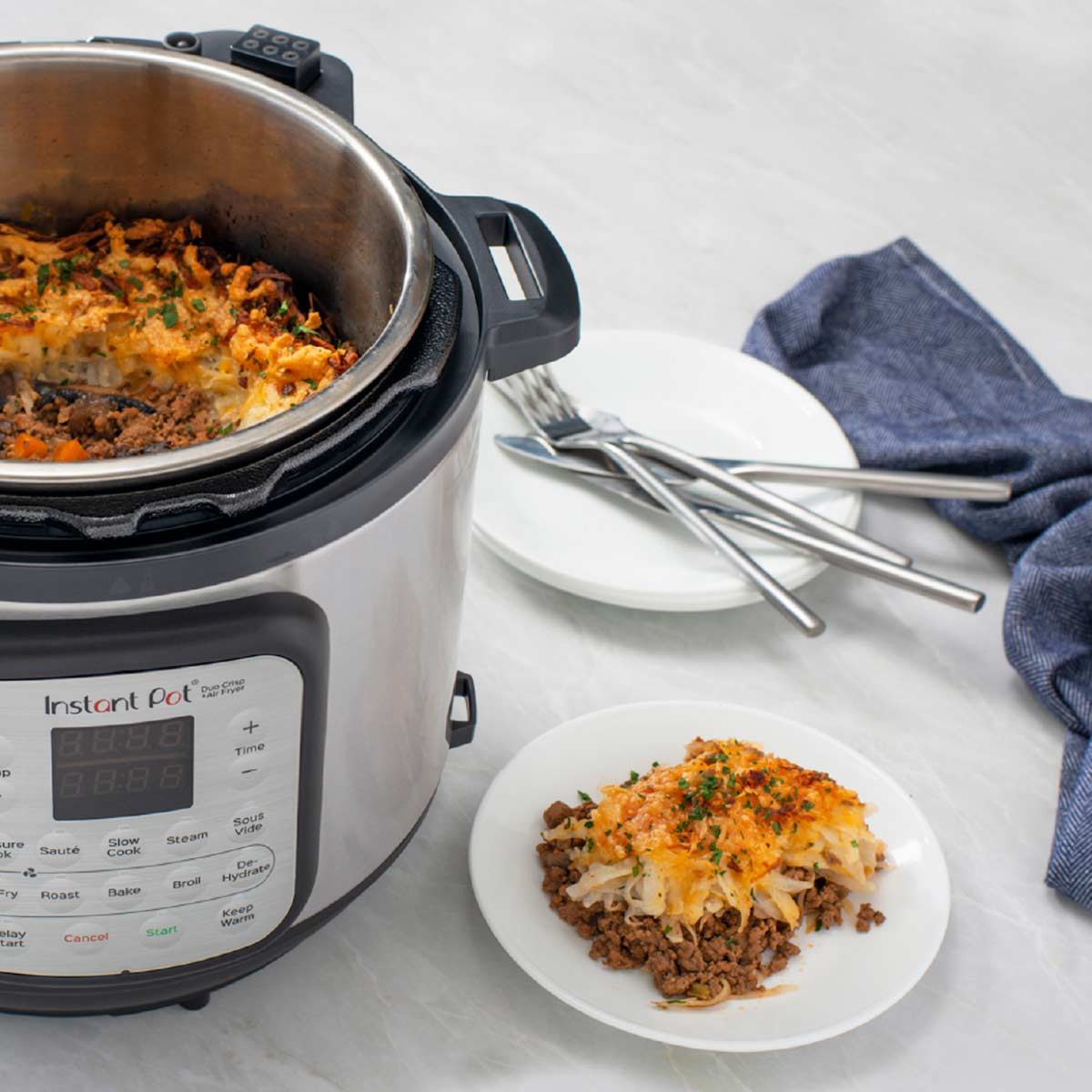 Serves: 6
Prep Time: 15 minutes
Cook Time: 45 minutes
Ingredients:
2 tbsp butter
225 g sliced mushrooms
½ tsp salt
½ tsp pepper
1 onion diced
1 celery diced
1 carrot diced
1 tbsp finely chopped fresh rosemary
2 cloves garlic minced
2 tbsp tomato paste
680g beef mince
1 ½ cups salt reduced beef broth
1 tbsp Worcestershire sauce
1 tbsp Dijon mustard
3 tbsp all-purpose flour
4 cups frozen shredded hash browns
1 cup shredded aged Cheddar cheese
⅓ cup grated parmesan cheese
2 tbsp finely chopped parsley
Method:
1. Add butter to the inner pot of the Instant Pot Duo Crisp + Air Fryer. With the lid off, Select Sauté, then set to High Temperature. Stir in mushrooms, and ¼ tsp each salt and pepper. Cook for 3 to 5 minutes or until mushrooms start to brown. Stir in onion, celery, carrot, rosemary, garlic, and remaining salt and pepper; cook for 2 to 3 minutes or until softened. Add beef mince; cook for 3 to 5 minutes or until starting to brown. Stir in tomato paste; cook for 1 minute. Press Cancel.

2. Add broth, Worcestershire sauce and mustard. Place multi-cooker lid on pot and lock in place to seal. Select Pressure Cook/Manual Setting on High Pressure for 4 minutes.

3. When pressure cooking is complete, Quick Release the pressure. Once pressure is released, remove the lid.

4. With lid off, select Sauté setting and set to High Temperature. Mix flour with 2 tbsp water until smooth and whisk into beef mixture. Bring to boil; cook for 2 to 3 minutes or until thickened.

5. Sprinkle hash browns, Cheddar and Parmesan cheese over top.

6. Using the Air Fryer lid, select Roast at adjust temperature to 205°C. Cook for 25 to 35 minutes or until topping is golden brown and bubbling. Sprinkle with parsley, and serve. Enjoy!