The great outdoors is both our kitchen and our pantry. You can find everything you need in nature to cook up a storm, alongside plenty of kindling to get a roaring fire going. Just ask Analiese Gregory, author of 'How Wild Things Are', star of the SBS food series 'A Girl's Guide to Hunting, Fishing and Wild Cooking' and acclaimed chef from Michelin-starred restaurants in Paris and Sydney.
To escape the hustle and bustle of running a restaurant, Analiese would pack up her car with a loaf of bread and drive up the east coast, camping or staying in shacks, diving, having early morning coffees on the beach and eating vegetables from roadside stands, crayfish sandwiches, abalone and periwinkles. To her, "the beauty and solitude of it all was something else."
Let's embark on a culinary journey with Analiese Gregory to discover the secrets of outdoor cooking. Learn how to create delicious meals while on the road.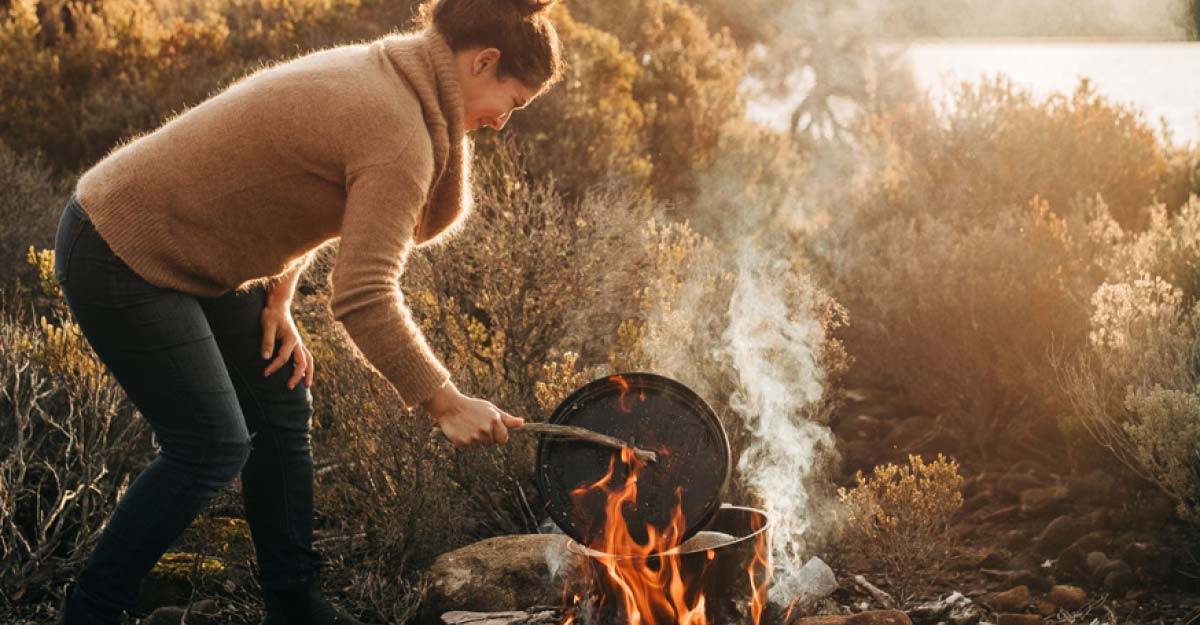 The Basics of Outdoor Cooking
If you're new to outdoor cooking, it can be overwhelming to know where to start. Here are some basics to keep in mind:
Planning ahead is essential when cooking on the road to ensure you have everything you need. Here are some things to consider:
Make a list of all the ingredients and equipment you'll need for your trip.
Pack food in airtight containers to keep it fresh.
Bring a cooler to keep perishable items cold.
When cooking on the road, keeping your meals simple is essential. Here are some ideas for easy and delicious meals:
Grilled chicken or fish with a side of grilled vegetables.
Quesadillas filled with cheese, vegetables, and grilled chicken.
Kebabs with your favourite meats and vegetables.
Another exciting but simple tip from Analiese is if you are near a clean and unpolluted beach, cook your seafood in seawater.
Selecting the Best Ingredients
When cooking outdoors, choosing the best ingredients is essential to ensure your meals are both delicious and healthy. Here are some tips to keep in mind:
Opt for locally-sourced produce, as it's likely to be fresher and more flavorful.
Choose lean and free-range meats, as they'll have a better flavour and be healthier for you.
Consider using herbs and spices to add extra flavour to your dishes. Salt and pepper is just the beginning.
Right now, Analiese is chowing down on her abalone noodle dish, which she usually prepares by whipping up a big batch of XO sauce before heading out the door. By meal prepping, you significantly improve your outdoor cooking, focusing more on the cooking rather than measuring ingredients for different dishes.
For example, Analiese has been using the electric pasta roller attachment with her KitchenAid to make noodle-making "much easier and faster". The self-proclaimed "lazy kneader" uses her KitchenAid for brioche, cakes and bread whenever she's home.
You'll find her abalone noodle dish recipe and plenty more in her cooking book, How Wild Things Are.
If you can access a portable grill, mastering it is essential to creating delicious meals. Here are some tips to help you become a grill master:
Preheat the grill before cooking to ensure even cooking.
Use the appropriate heat level for the food you're cooking. High heat is good for searing meat, while lower heat is better for vegetables.
Don't overcrowd the grill, as this can lead to uneven cooking.
Use a meat thermometer to ensure your meats are cooked to perfection.
But for a genuine outdoor cooking experience, the only way to do it is with fire.
Analiese has some must-read tips on cooking with fire in the great outdoors.
Choose suitable wood: Use dry hardwood, such as oak or hickory, as they burn hotter and longer than softwood. Avoid using wood that has been chemically treated or painted. If you only have what's around you, the wood must be completely dry, or it will release too much smoke from the moisture inside.
Build a fire correctly: Create a fire pit with stones or dig a shallow hole in the ground. Stack the wood in a teepee shape and light it from the bottom. Once the flames have died down, you can start cooking. If you let a fire burn down and cook over the coals, it's a much more even heat.
Adjust the heat: Move the cookware closer or further away from the fire. Use tongs or a long-handled spatula to avoid touching hot cookware.
Be safe: Always keep a bucket of water or sand nearby for emergencies. Use gloves or oven mitts to handle hot cookware, and be careful not to burn yourself on the flames. Be aware of fire bans and what the laws are regarding fires where you're going.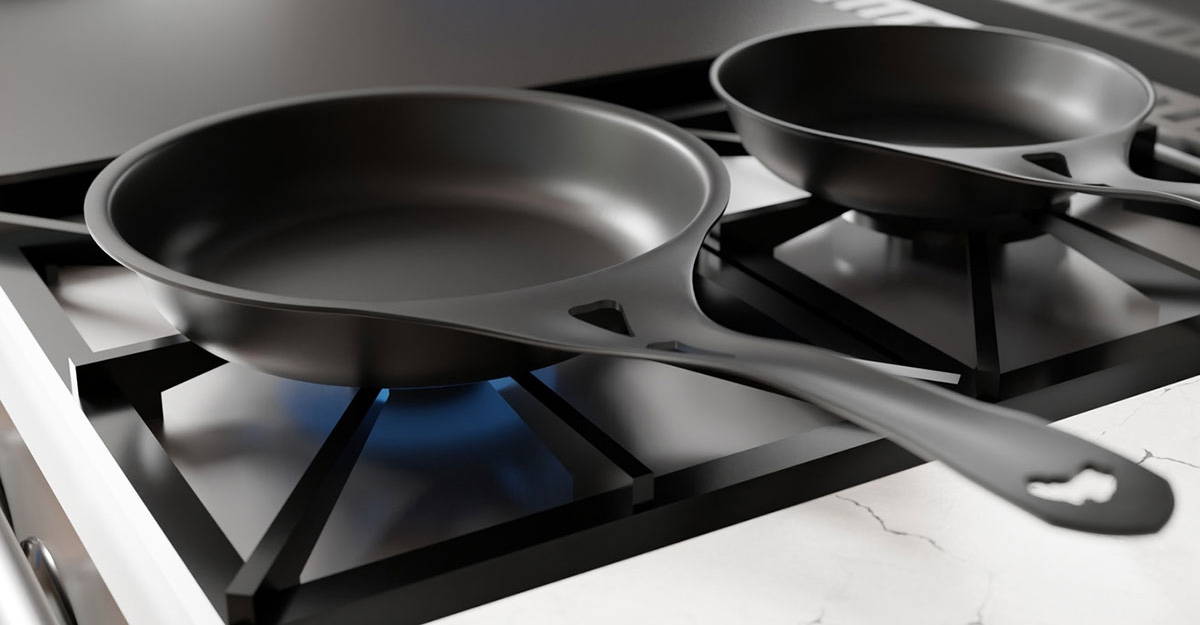 When it comes to outdoor cooking, having the right cookware can make all the difference. That's where Solidteknics comes in. This Australian-made cookware is crafted from low-carbon steel and is non-toxic and chemical-free.
Solidteknics maintains a loyal following among cooking enthusiasts and is built to last a lifetime. And thanks to their Quenched line, Solidteknics has made outdoor cooking even more accessible.
The cookware is pre-seasoned at the point of manufacture using high-quality rice bran oil, so there's no need to season your pans in the oven. Plus, with Solidteknics' expertise in engineering and materials, you can trust that their cookware will perform beautifully over years of outdoor cooking.
They back their brand with a multi-generational warranty so you and your family can cook confidently for years. Make the switch to Solidteknics for healthy, sustainable outdoor cooking that's built to last.
Abalone Fritters with Bread and Butter (aka Tip Top Tacos) By Analiese Gregory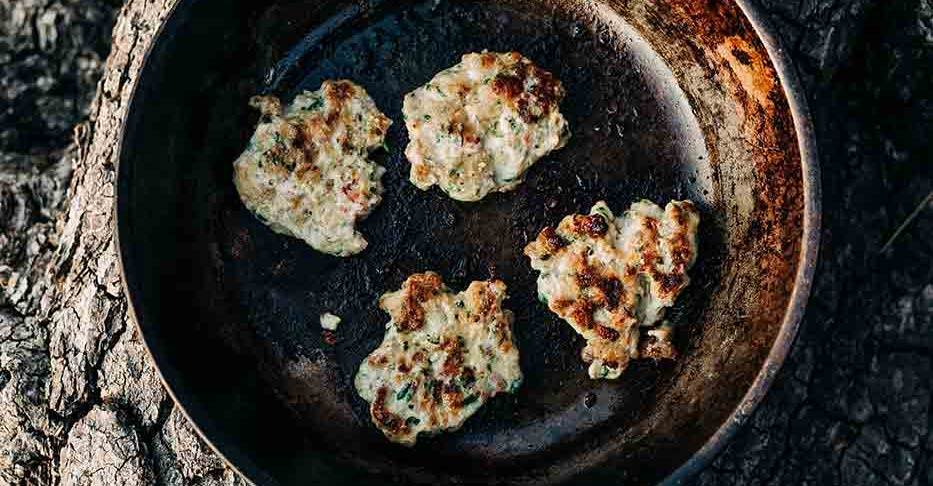 Analiese Gregory's Abalone Fritters with Bread and Butter, also known as Tip Top Tacos, is a nostalgic Kiwi classic. To make eight fritters, dice 170g abalone meat and mix with chopped shallot, egg white, coriander, chilli condiment, and sea salt. Shape into balls and flatten into fritters, frying for 2-3 minutes each in a hot buttered pan. Serve on soft white bread with your preferred condiments.
You can find the full recipe on the Minimax Style blog, alongside the nostalgic Aussie camping classic: Bush Spices Damper.
The Secrets of Outdoor Cooking Unlocked
Outdoor cooking is a fun and delicious way to enjoy your time on the road. With the guidance of Analiese Gregory and some essential tips and tricks, you can create mouth-watering meals that will make your camping or road trip experience even more memorable. So pack up your grill and hit the road because the world is your kitchen whenever you're Cooking on the Road with Analiese Gregory.
Q: What equipment do I need for outdoor cooking?
A: Some essential equipment includes a grill, utensils, a meat thermometer, and a cooler.
Q: How can I keep my food fresh while on the road?
A: Pack food in airtight containers and bring a cooler to keep perishable items cold.
Q: What are some easy meal ideas for outdoor cooking?
A: Grilled chicken or fish with grilled vegetables, quesadillas, and kebabs are all easy and delicious meal ideas.