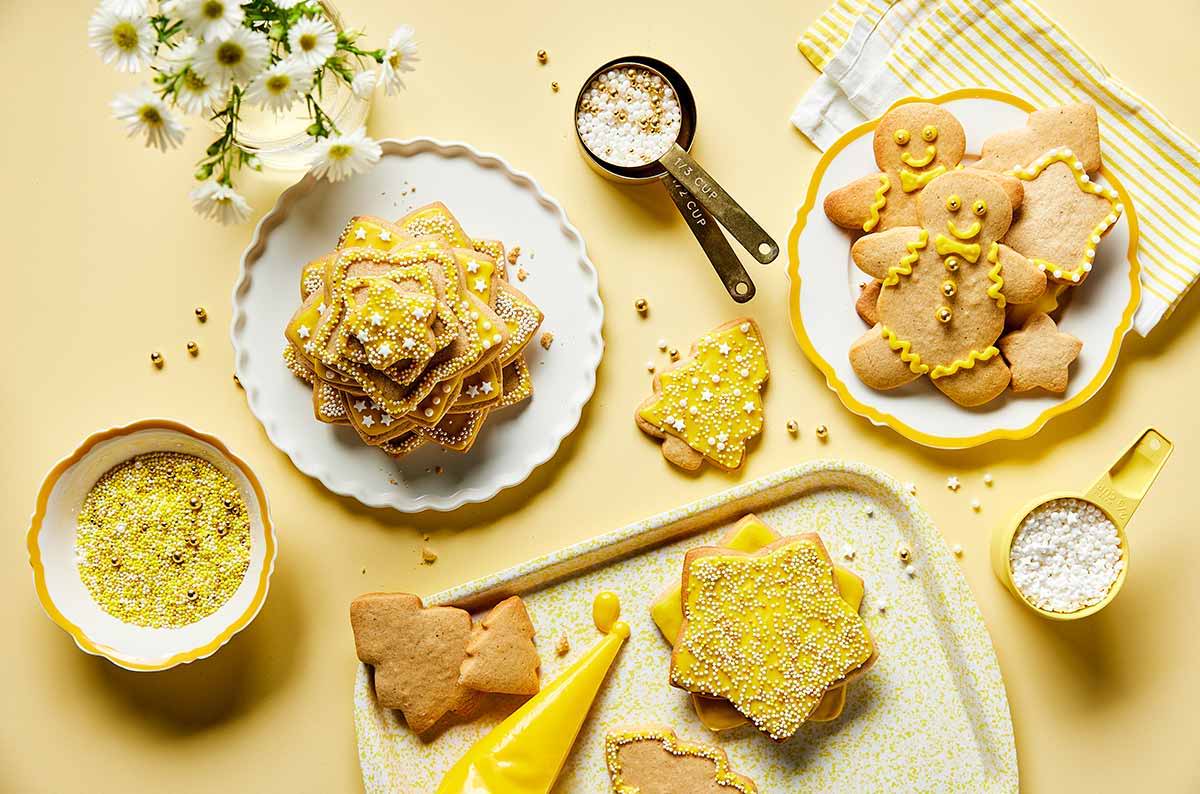 A festive fave, this summer pavlova is sure to impress. Fluffy whipped cream, fresh summer fruits and a delectably light base? That's what we call the ultimate warmer weather dessert!
Makes: 2 cookie trees
Prep/Cook Time: 30 minutes plus icing time
225g unsalted butter, at room temperature
2 cups icing sugar
1 large egg
1 tsp vanilla extract
3 1/4 cups all purpose plain flour
2 tsp baking powder
Pinch sea salt
1 1/2 tsp ground cinnamon
1 tsp ground nutmeg
Royal Icing
1 1/2 cups pure icing sugar, sifted
1 large egg, whites only
1 tsp lemon juice
Food colouring
Sprinkles
Pre heat the oven to 180C fan forced.

Line 2 large cookie trays with baking paper.

Attach the paddle attachment to a KitchenAid stand mixer. Add the butter and sugar and turn on a low to medium speed. Beat until light and fluffy, followed by adding the egg and the vanilla extract. Beat further until well combined.

In a seperate bowl combine all the dried ingredients. Turn the mixer on low and slowly add the dry mixture to the butter mixer. Beat until the dough comes together.

Divide the dough in half and cover. Roll out one half of the dough in-between 2 sheets of baking paper until it is roughly 1cm thick. If you are working on a hot day, it is helpful to place the rolled out dough in the fridge for 10 minutes until it is firm and easy to manage.

Using different size star cookie cutters, cut out each cookie. Using a thin spatular, gently transfer each cookie onto the pre lined tray.

Place in the oven and bake for 10-12 minutes or until lightly golden. Remove from the oven and allow too cool for a few minutes before transferring to a cooling rack.

Repeat the process for the other half of the dough until all cookies have been cooked.

Allow to completely cool before icing.

To make the royal icing; combine the icing sugar, egg whites and lemon juice into a clean KitchenAid mixing bowl, attach the paddle attachment to the stand mixer. Beat on slow speed until the icing is smooth and the consistency of toothpaste.

Add the food colouring of your liking and mix together.

Transfer the icing into a piping bag with a small piping nozzle attached. Pipe the cookies and sprinkle over with sprinkles.

To build the Christmas trees, layer up the cookies starting with the largest one as the base. Use a little of the icing as glue to help stick them together.

Store in a sealed container.
Experience the magic of KitchenAid this festive season with the KSM195, a durable tilt-head stand mixer built to last, offering 10 speeds for all your Christmas dessert needs. This model includes a 4.8L and 2.8L bowl, along with an accessory pack, perfect for all your holiday baking and show-stopping Christmas desserts.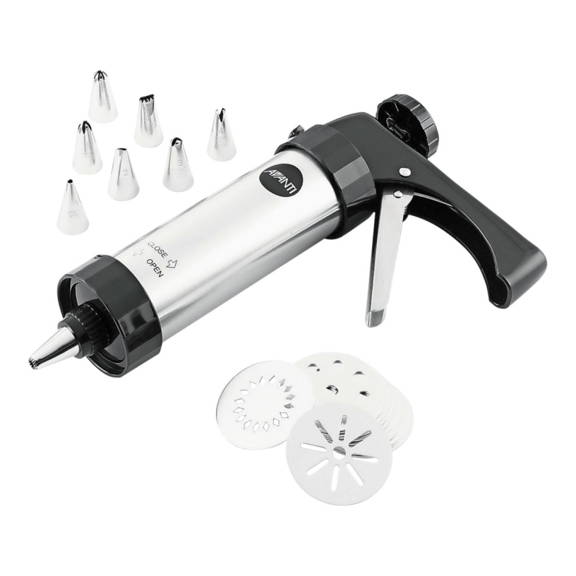 Deluxe Cookie Press and Icing Kit
Includes roller for thinning and two cutters for crafting fettuccine and spaghetti, this attachment opens up a world of possibilities for homemade pasta dishes.