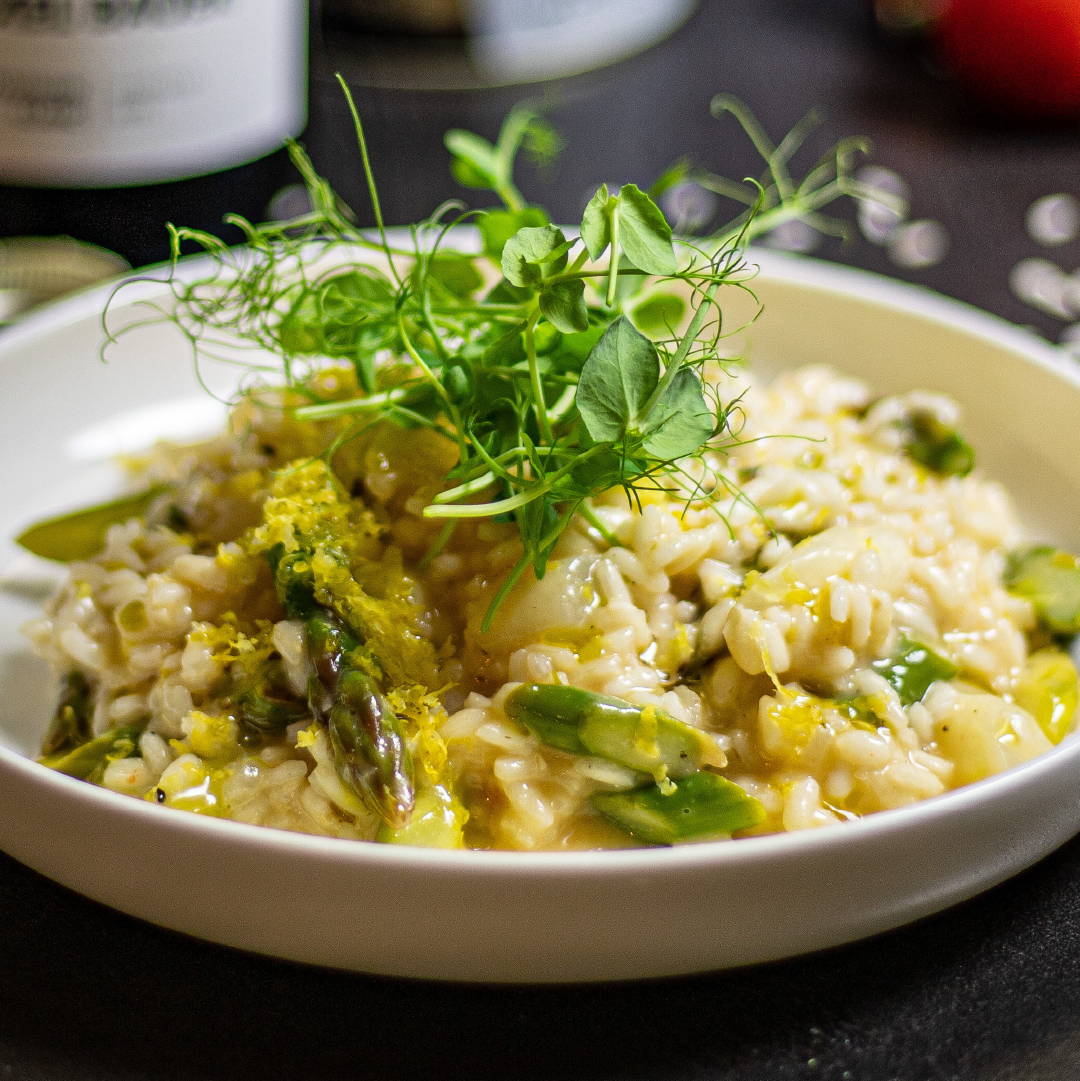 1 cup Arborio rice
2 tablespoons unsalted butter
1 small onion, finely chopped
2 cloves garlic, minced
1/2 cup dry white wine
4 cups vegetable or chicken broth, kept warm
1 bunch of asparagus, trimmed and cut into bite-sized pieces
Zest of 1 lemon
Juice of 1 lemon
1/2 cup grated Parmesan cheese
Salt and pepper to taste
Fresh parsley for garnish
In a saucepan, heat the vegetable or chicken broth over low heat to keep it warm.

In a separate large saucepan or deep skillet, melt 1 tablespoon of butter over medium heat. Add the chopped onion and garlic and sauté until translucent, about 3-4 minutes.

Add the Arborio rice to the onion and garlic mixture and stir to coat the rice with the butter. Cook for an additional 2 minutes, allowing the rice to become slightly translucent at the edges.

Pour in the dry white wine and cook, stirring constantly, until it is mostly absorbed by the rice.

Begin adding the warm broth, one ladleful at a time, stirring frequently. Allow each addition of broth to be mostly absorbed by the rice before adding more. Continue this process until the rice is creamy and cooked to your desired level of doneness, usually about 18-20 minutes.

In the last few minutes of cooking, add the asparagus pieces to the risotto. They should become tender and bright green.

Stir in the lemon zest, lemon juice, and grated Parmesan cheese. Season with salt and pepper to taste.

Finish by stirring in the remaining tablespoon of butter for extra creaminess.

Serve the creamy lemon and asparagus risotto in bowls, garnished with fresh parsley and an extra sprinkle of Parmesan cheese if desired.
Anolon Endurance+ Covered Risotto Pan 30cm (5.2L)
The Anolon Endurance+ Covered Risotto Pan is ideal for cooking almost any recipe. The 5.2L capacity provides plenty of space to make family-sized meals, while the stainless steel construction and oven safe design make it suitable for stovetop and oven use. Anolon's unique durability ensures this pan will last for years.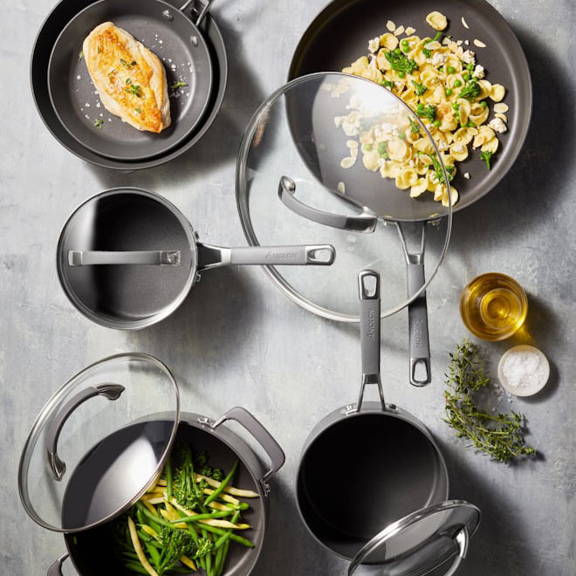 Built for Purpose Pans for All Your Family Favourites
Anolon Endurance+ cookware strikes the perfect balance of functional elegance and the durability needed for cooking right throughout the week. Featuring a hard-anodised construction, twice as sturdy as stainless steel, it ensures impressive resilience and quick, even heat distribution for flawless cooking results. Additionally, its Induction suitable base provides superior control and performance across all cooktops.