The best food processor in Australia is just waiting to be found. Investing in a high-quality food processor will save you plenty of time and effort and increase the overall quality of your food preparation. These dependable kitchen assistants take care of all the tedious preparation work with the click of a button. They're an excellent multifunctional tool that will transform your meals from great to incredible!
However, with so many options available from various brands, figuring out which food processor is best isn't as simple as explaining what does a food processor do. So, why don't we start there?
This is the Minimax food processor buying guide. We'll go through everything you need to know about these dependable kitchen appliances – the different types available, their uses, and all the delicious food you can prepare.
At the end of this article, you'll have the answer to your all-important question–what is the best food processor in Australia? Keep reading to find out.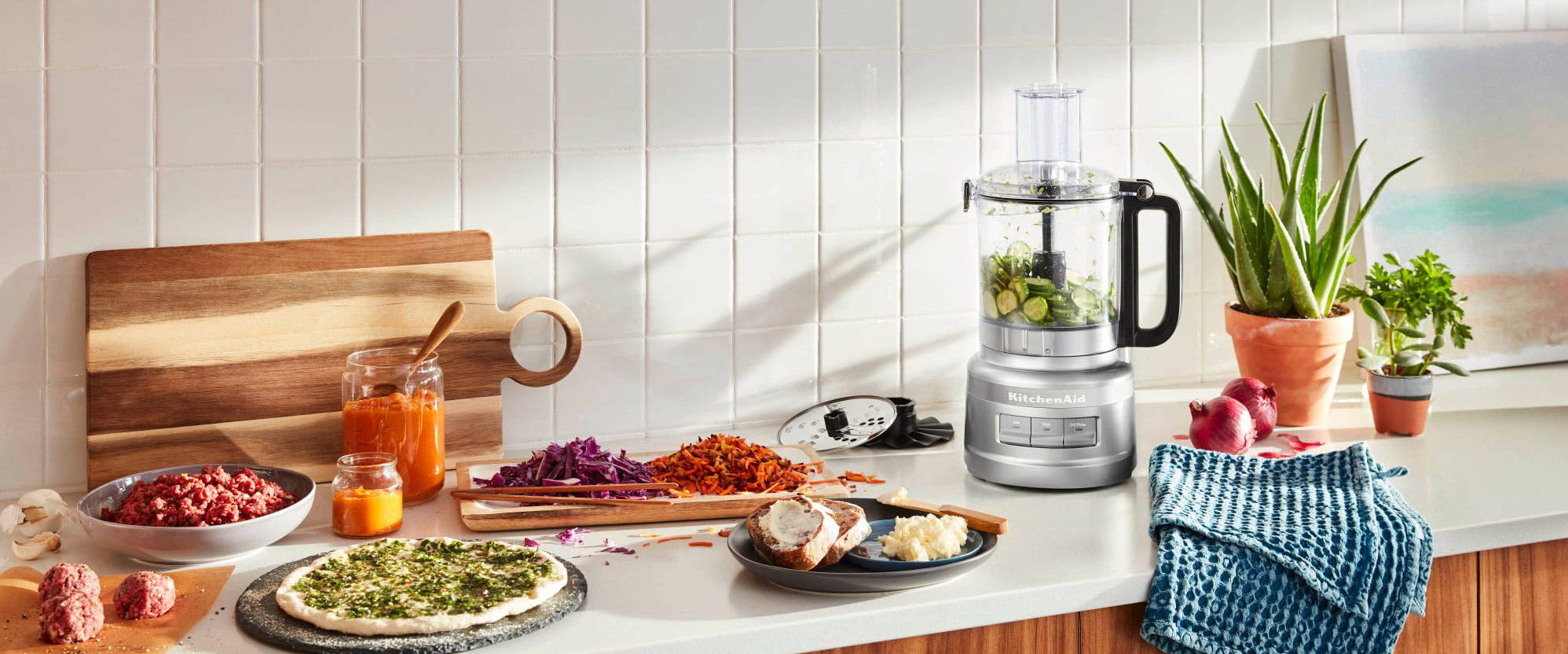 All-in-one Food Processor
An all-in-one processor is your a-typical food processor. Purchased individually or in a package with numerous add-ons for expanded functionality, these food processors can perform multiple cooking tasks such as chopping, mixing, grinding and pureeing.
Hand-operated Food Processor
Hand-operated food processors are manual appliances operated via twist motion or a lever. Typically much smaller than your countertop food processor, these hand-operated appliances have a limited food capacity, making them ideal for travelling or camping. Plus, they don't require electricity.
Commercial Food Processor
Commercial processors are the largest and most powerful food processors, typically used in hospitality kitchens to make large batches of food. Unless you're running a buffet kitchen or moonlight at a school canteen, commercial food processors are totally unnecessary for your standard cook. Their cost and size alone should be enough to deter you from these industry-grade appliances.
The S blade in all food processors is perfect for chopping up all your favourite foods. Add your ingredients, put on the lid and tune in your settings to get chopping. You can use processors to chop onions, garlic, nuts and any vegetables you fancy and make quick work of meal prep!
While mincing your meat may seem like something best left for the butcher, we're here to tell you it's a straightforward task you can do on your own with a food processor. Give yourself complete control over the lean meat to fat ratio and coarseness, something you can't always control when buying from a butcher. Fill it up and let the processor do its magic!
Whether you're looking to make a delicious gluten-free dish or are trying something new in the kitchen, a food processor is a perfect tool to blend a homemade puree. All you need to do is add your food ingredients and a liquid to achieve the desired consistency, then run your processor on High for 30 seconds to one minute.
Food processors chop, mince and puree better than any other kitchen appliance. But did you know they're also incredibly capable blenders? All you need to do is add the Blendermix Attachment and your processor effectively becomes a blender. Grab your favourite ingredients and blend away!
It's never been easier to grate your cheese or vegetables than with the reversible grating disc you get with most modern food processors. Using the feed tube can funnel your ingredients directly into the disc, making light work of absolutely any grating work you need to prepare for your next meal.
The wide variety of blades you receive with your food processor allows you to slice your food exactly how you like it, whether cutting thin potato for some fries or thick slices of pepperoni for a meat platter, the slicing disc attachment with every food processor slices exactly how you want.
The fastest and easiest way to knead dough is through a food processor. Leverage the rapid speed to evenly combine all the ingredients and ensure nothing is left unmixed. The dough blade is made of plastic, perfectly aerating the mixture, leaving you with the ideal consistency for baking.
Invest in a juicer attachment and make buying a standalone juicer redundant. Connect your juicer attachment to your food processor, add the fruit and then press to squeeze the juice into the bowl below. For those who don't like pulp, you can easily strain it out once you've got all your juice.
Food processors come with many different accessories, which means you'll need the storage space, not just for the appliance itself but for everything else that comes with it. Having enough internal storage space is a critical purchasing consideration no matter which food processor you choose.
Protecting the blades and attachments is also a must to increase the longevity of your processor, as blunt blades cannot effectively cut or blend your food.
Depending on the amount of food you're planning on processing, the bowl size you get with your processor is supercritical. The standard processor bowl is all you need to prepare small to medium dishes. However, if you're planning on processing a large quantity of food at once, such as mincing kilograms of meat, you'll need a large bowl with your processor.
Purchasing a food processor that is powerful enough to complete the jobs you're after is another critical purchasing consideration you need to make. Otherwise, you risk overheating and damaging the motor. Overheating occurs when overworking your food processor. Much like running a car in the red, you don't want to push your food processor too far.
A good rule of thumb for a full-sized processor is a minimum of 600 watts. For smaller kitchen appliances, 250 watts should be enough to satisfy the basic requirements expected of a food processor.
There are dozens of food processor blades available today, which makes picking the best attachments for your needs a little more time-consuming.
S-shaped blades are the most common blade on a processor, as they are the most versatile, unlike other more specific blade attachments. For instance, perforated blades are used exclusively for creating liquid-based dishes such as sauces and dips. Food processors also have disc attachments used for grating, slicing, shredding, and chopping. Fortunately, you don't need a different blade for each specific function, as they're capable of being used for multiple applications.
Most food processors can pulse and process. The pulse function is generally used for chopping or mincing ingredients as it moves food around the bowl for a more even consistency. When recipes ask you to pulse, it means processing food in 1-second bursts. The process function runs the appliance for a specified amount of time and is best used for pureeing ingredients.
You can purchase a food processor with a bunch of attachments. However, in our experience, many home chefs use only a handful of the extra accessories.
Your standard food processor will include different-sized bowls and blades, one for slicing, a grating reversible disc, blender attachments or a dough kneader. To save money, consider whether you'll use the extra extensions before buying. You won't knead the dough kneader if you're never going to bake!
Finding a processor with a feed chute capable of fitting all the ingredients you're planning to use is essential. Most food processors come with the standard single feed chute, which fulfils most people's needs. For more intensive food processing, a double tube provides more control in guiding food toward the blades; it's a must-have feature for those looking for more accurate slicing or shredding.
The Best Food Processors in Australia
1. Cuisinart Mini Prep Pro
Thanks to the Cuisinart Mini Prep Pro, chopping, grinding, and pureeing food is an effortless task. Designed for smaller quantity dishes like dips, dressings and sauces, you can use this mini processor and its 940ml mixing bowl for chopping onions and garlic, making breadcrumbs and grinding nuts in seconds. Plus, the removable stainless steel blade, lid and bowl are all dishwasher-safe and BPA-free.
2. Magimix Food Processor 3200
Stepping up in size and functionality, the Magimix Food Processor 3200 remains a compact yet superior-performing option for any kitchen. Able to pull its weight like larger models, yet small enough to be considered space-saving, its simple three-button operation and powerful 650W motor are a joy to use. Included with the 3200 model are a set of blades and mixing attachments, a 2.6L Main Bowl and 1.2L Mini Bowl, plus a storage box and recipe book.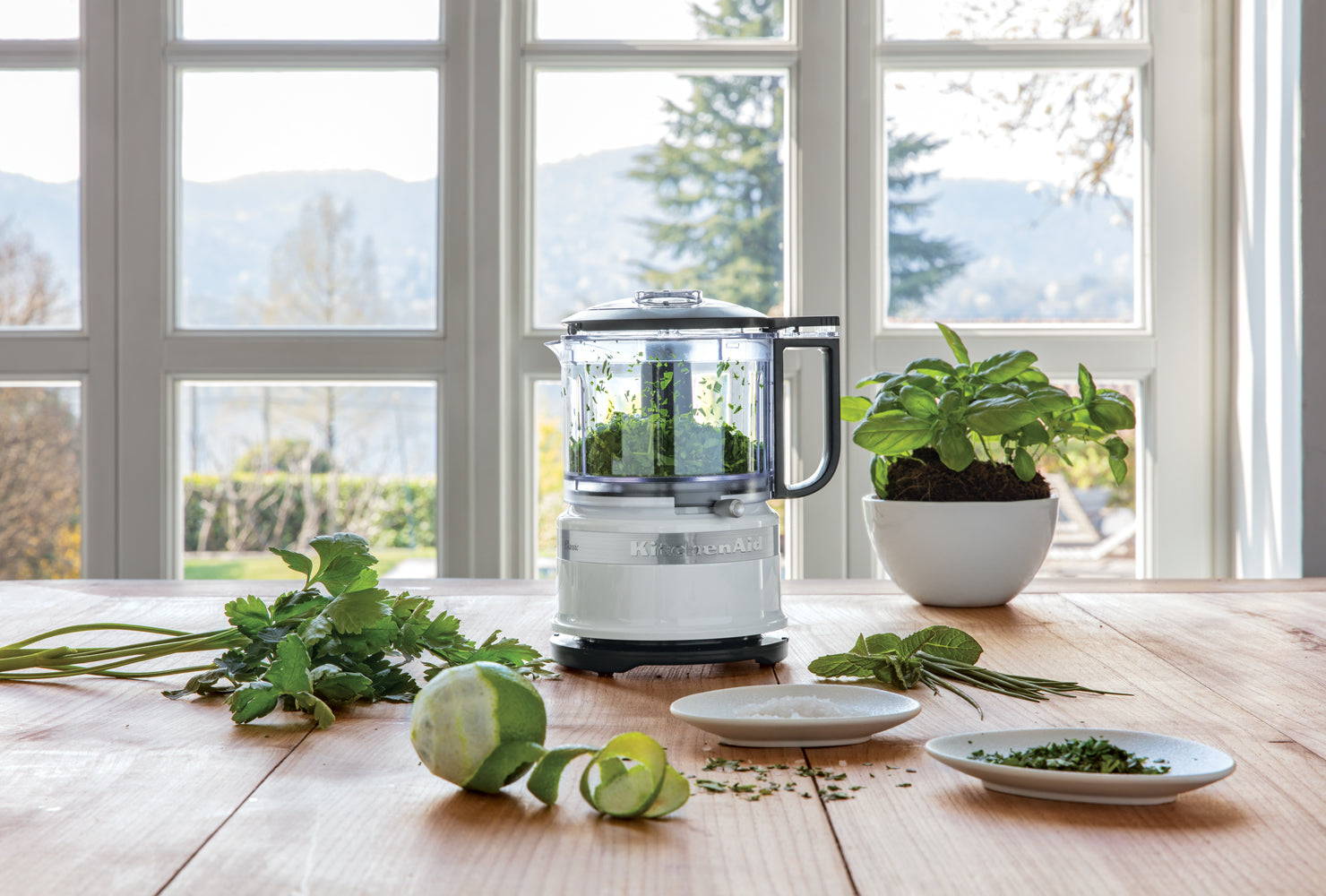 3. KitchenAid KFC3516A Mini Food Chopper
Compact and lightweight, the KitchenAid KFC3516A Mini Food Chopper and its 3.5 cup capacity is ideal for everyday use and offers streamlined chopping, mixing and pureeing. The two-speed settings alongside the standard pulse function provide precise controls for delicious results at mealtime. And thanks to its countertop-friendly footprint and simple cord wrap, everything is neatly tucked away when you're finished prepping.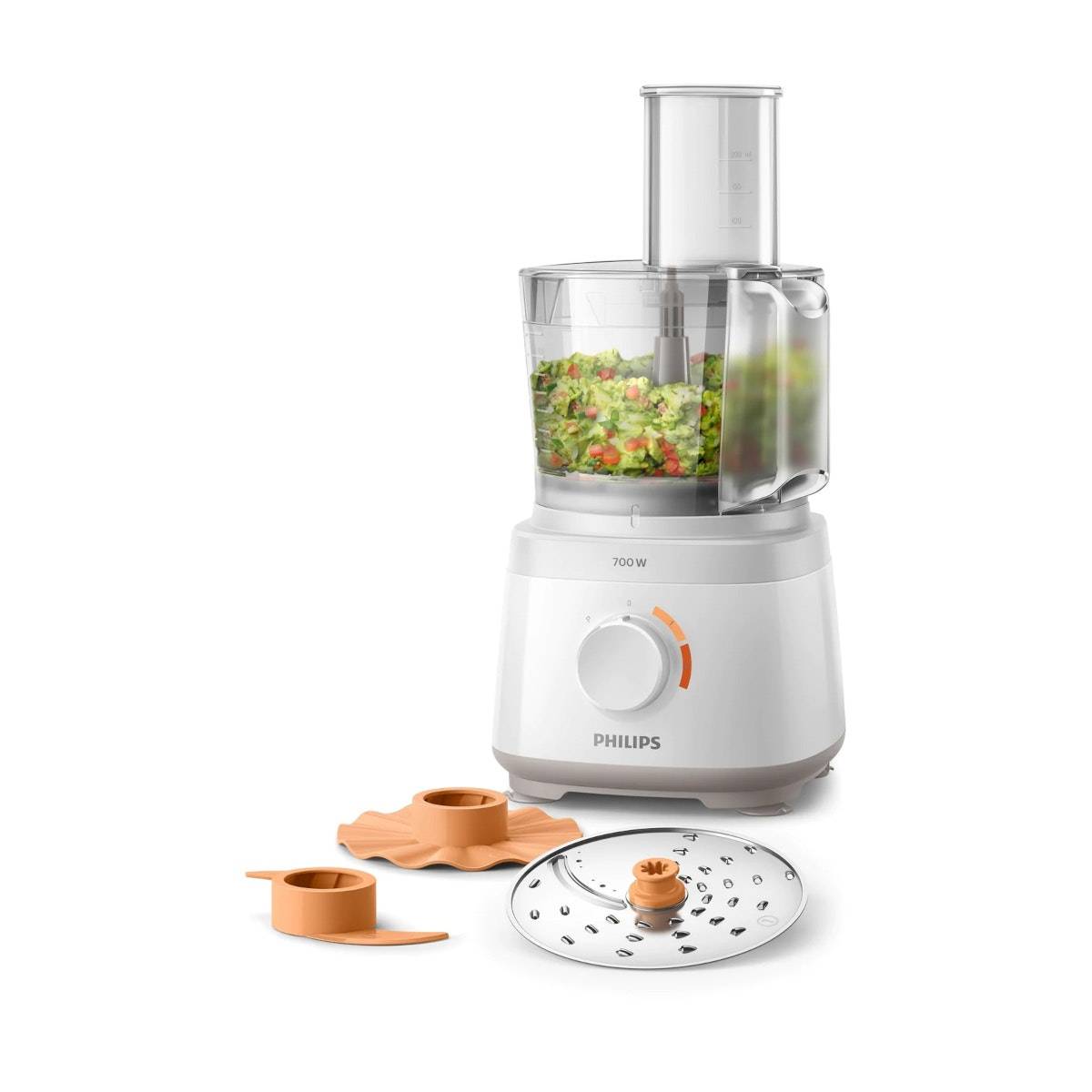 4. Philips Daily Food Processor
This Minimax Online Exclusive is easily the most modern-looking food processor on our list. It's also got 16 individual functions that make the Philips Daily Food Processor a high-quality, multi-functional option for any kitchen. It features a 700W motor for effortless processing and fast preparation, and thanks to its massive feeding tube and generous 2.1L bowl, pre-cutting is a thing of the past.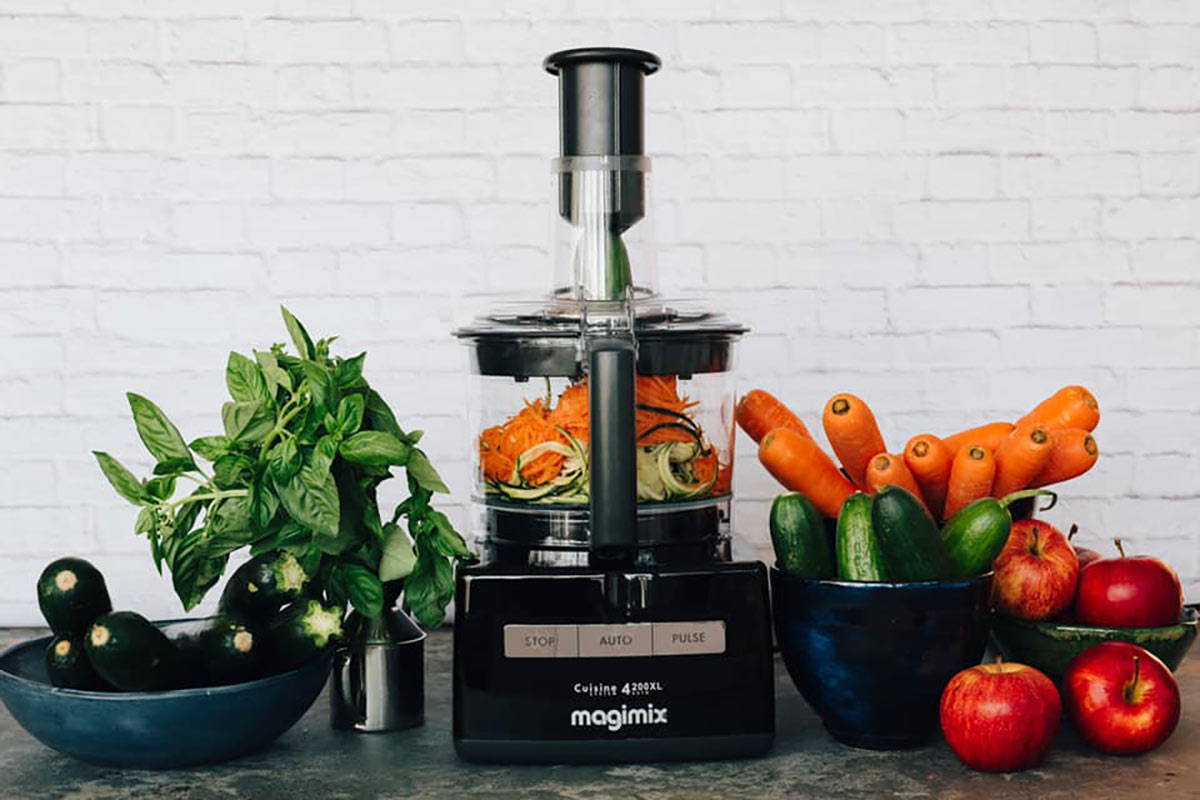 5. Magimix Food Processor 5200
If the 3200 wasn't big enough, upgrade to the Magimix Food Processor 5200. Take everything from the 3200 and double it. There's a 1100W motor, a 3.6L main bowl, plus all the attachments you could ever need.
Food Processor vs Blender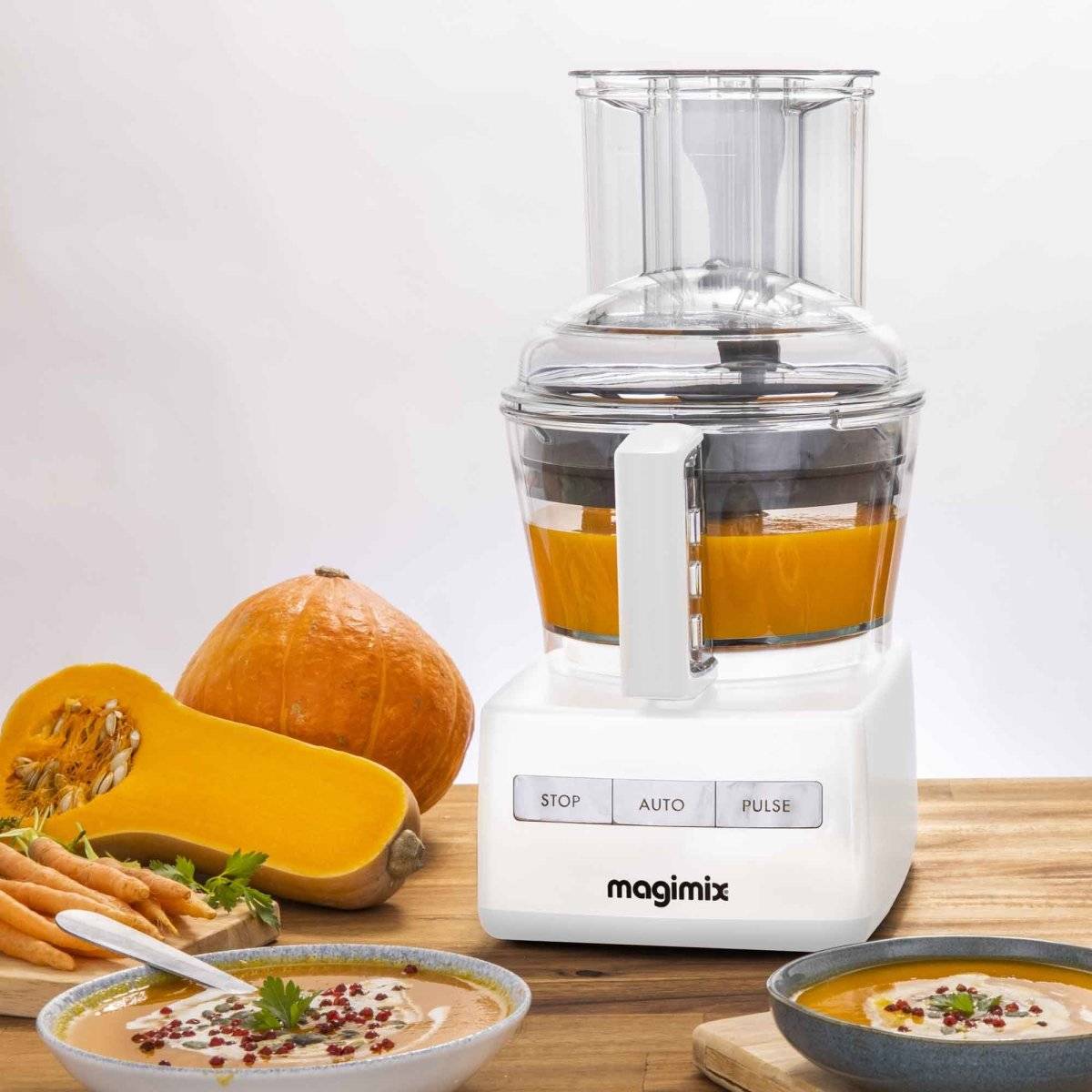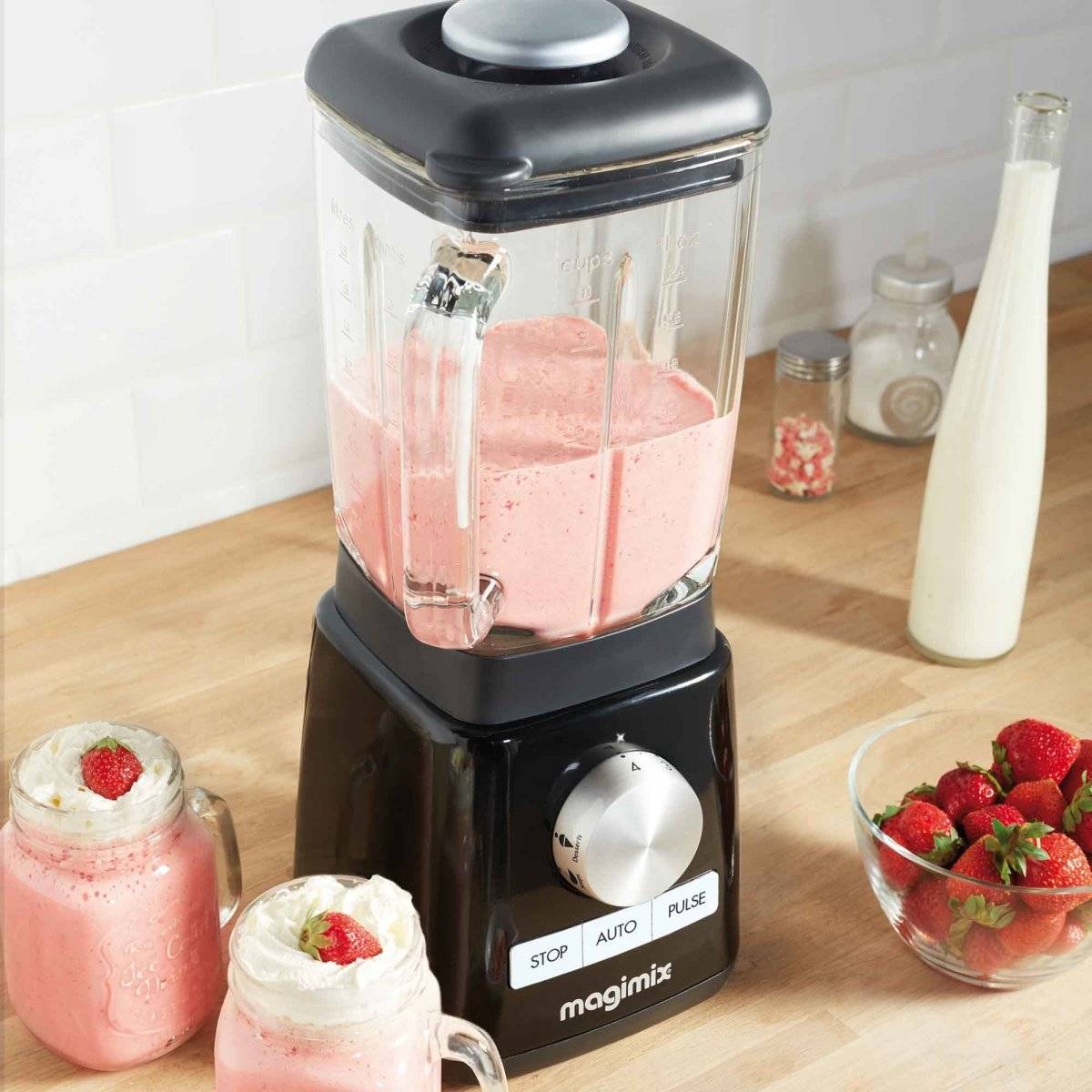 While these kitchen appliances may seem very similar, we certainly believe they deserve to have their spots in your kitchen as they serve different purposes. A food processor is primarily used to slice, chop, shred, mix or puree your ingredients, whereas a blender creates smooth textures for smoothies, soups and sauces.
While a food processor could technically achieve the same results with the right attachments, high-quality blenders just do it better. Blenders blend food more efficiently thanks to their pre-programmed settings, delivering a smoother, high-quality outcome than the meals made in a food processor.
Many blenders also have a detachable plastic bottle for blending and drinking, which means less mess and a portable option for on-the-go blending.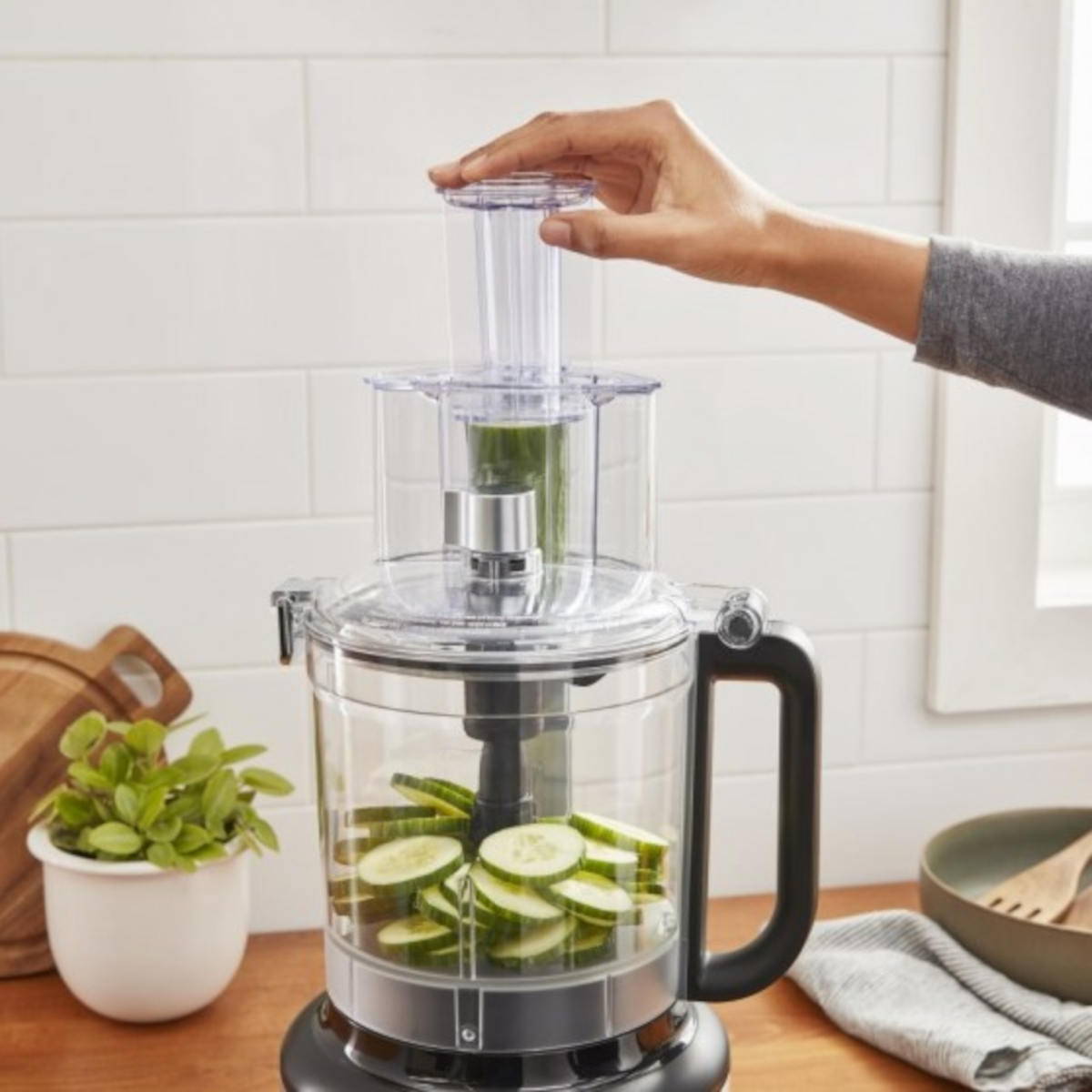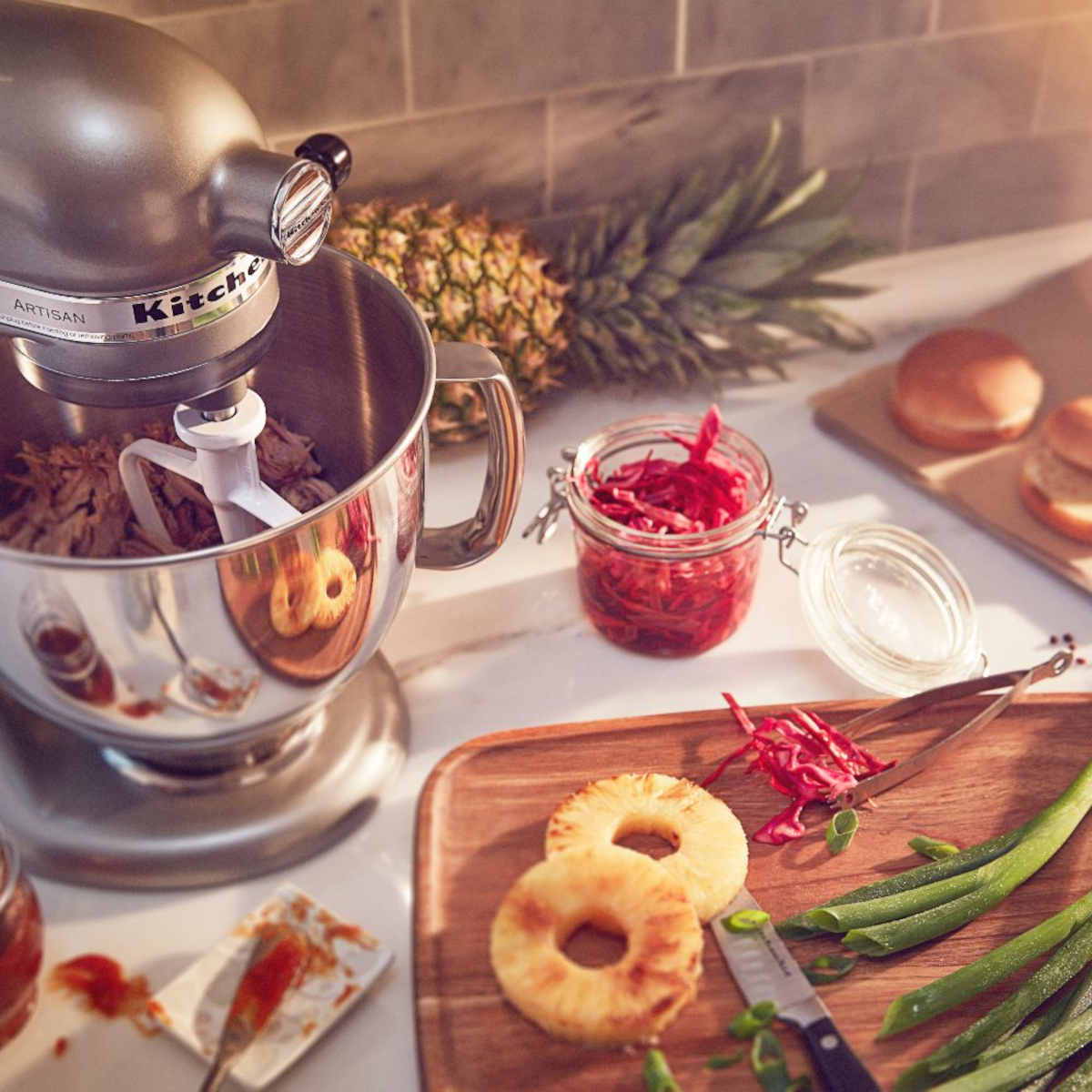 Both mixers and food processors are versatile tools that hold an integral position in the kitchen. Although food processor attachments make them somewhat interchangeable, at the end of the day, they are different tools designed to provide a particular function–processing or mixing.
The main difference between a processor and a mixer is how they operate. Mixers knead and whip up ingredients. And as we've already mentioned, processors blend, chop, slice, and puree.
You should certainly look to invest in a high-quality stand mixer if you're an avid baker, as nothing else can whisk and mix quite as well as a mixer.
Food Processing With Minimax
It doesn't matter if you're a casual once-a-week chef or the head chef of your household. The common denominator is your absolute need for a world-class food processor that will drastically improve your cooking experience.
Our range of the best food processors in Australia is sure to suit your every need, from mincing your favourite meat to creating the most delicious homemade puree. We've got everything you need here at Minimax.