The best cutlery sets in Australia aren't always the most expensive or the shiniest, or even the sharpest. Browsing through the list of the best cutlery brands in Australia and the world, you need to remember the primary purpose of cutlery–preparing, serving, and of course, eating food.
To help you find the ideal cutlery set for your home, we're going to start from the very beginning with a deep dive into everything cutlery before revealing our picks for the best modern cutlery sets available in Australia.
Knives, spoons, forks, chopsticks, steak knives, teaspoons and lobster picks! Welcome to the Minimax Cutlery Buying Guide!
Although humans have been using tools for thousands of years, having your own set of cutlery at the dinner table is a relatively modern invention. Often referred to as silverware or flatware in the US, setting the dinner table, whether formally or casually, will almost always involve knives, forks and spoons in western culture.
Much of modern cutlery can be traced back to Sheffield, a city in South Yorkshire, England. Holding an international reputation for metallurgy and steel-making, the Company of Cutlers in Hallamshire has continued to oversee the cutlery industry since its booming days in the 17-century.
However, throughout Asian countries, China and Japan especially, chopsticks are the preferred eating utensil. In Korea, for example, most meals are served with Sujeo, a spoon and a set of chopsticks. And if you're at a Korean BBQ restaurant, you'll probably have a pair of scissors and tongs to help you with all that meat.
There are also plenty of utensils for specific foods and meals. Some are variations on the classics, like Cheese Knives, Soup Spoons and Crab Forks, while others are designed for particular functions like Lobster picks.
We're starting with knives because of the origins behind the word cutlery. Derived from the Old French word 'coutel', meaning knife (modern French: couteau), one could assume cutlery came from the desire to cut food. And you'd probably be right.
Before the advent of modern cutlery, many tables would have communal knives. Alternatively, individuals would use pocket knives to cut their meals up. From primitive blades and weapons, the humble table knife would become less of a tool for attack and defence and more a utensil for satisfying hungry stomachs.
By 1000BC, iron was the most popular material for table knives and wouldn't be overtaken until the invention of stainless steel in the 20th century by Harry Brearly. Although the best cutlery sets are made from sterling silver, stainless steel remains the most popular material.
Knives also have the most variations in terms of applications. While forks pick up food and spoons come in different shapes and sizes depending on the meal, there are many more knives beyond the one to the right of your plate.
There are serrated steak knives for cutting through steak and other thick pieces of meat, cheese knives and sets for carving up and serving cheese (duh!), and even tiny butter knives for lathering your toast in deliciousness.
Minimax Cheese Knife Recommendations
The most significant change to table knives was probably in 1699 when French King Louis XIV banned pointed knives in his effort to reduce dinnertime knife fights. Though they could still cut through food with pressure, blades were purposefully blunted, making them useless for spearing or slicing fellow guests.
Minimax Steak Knife Recommendations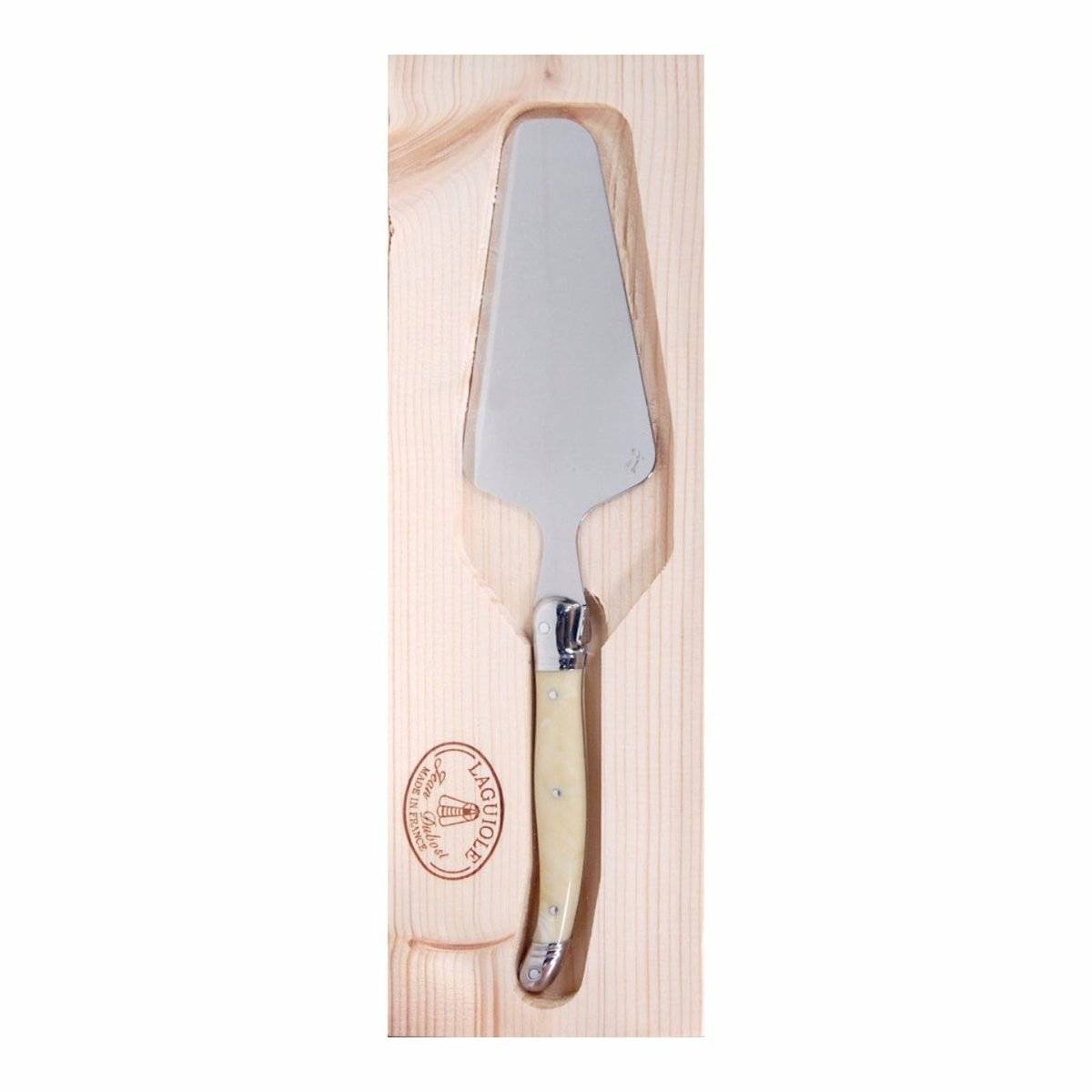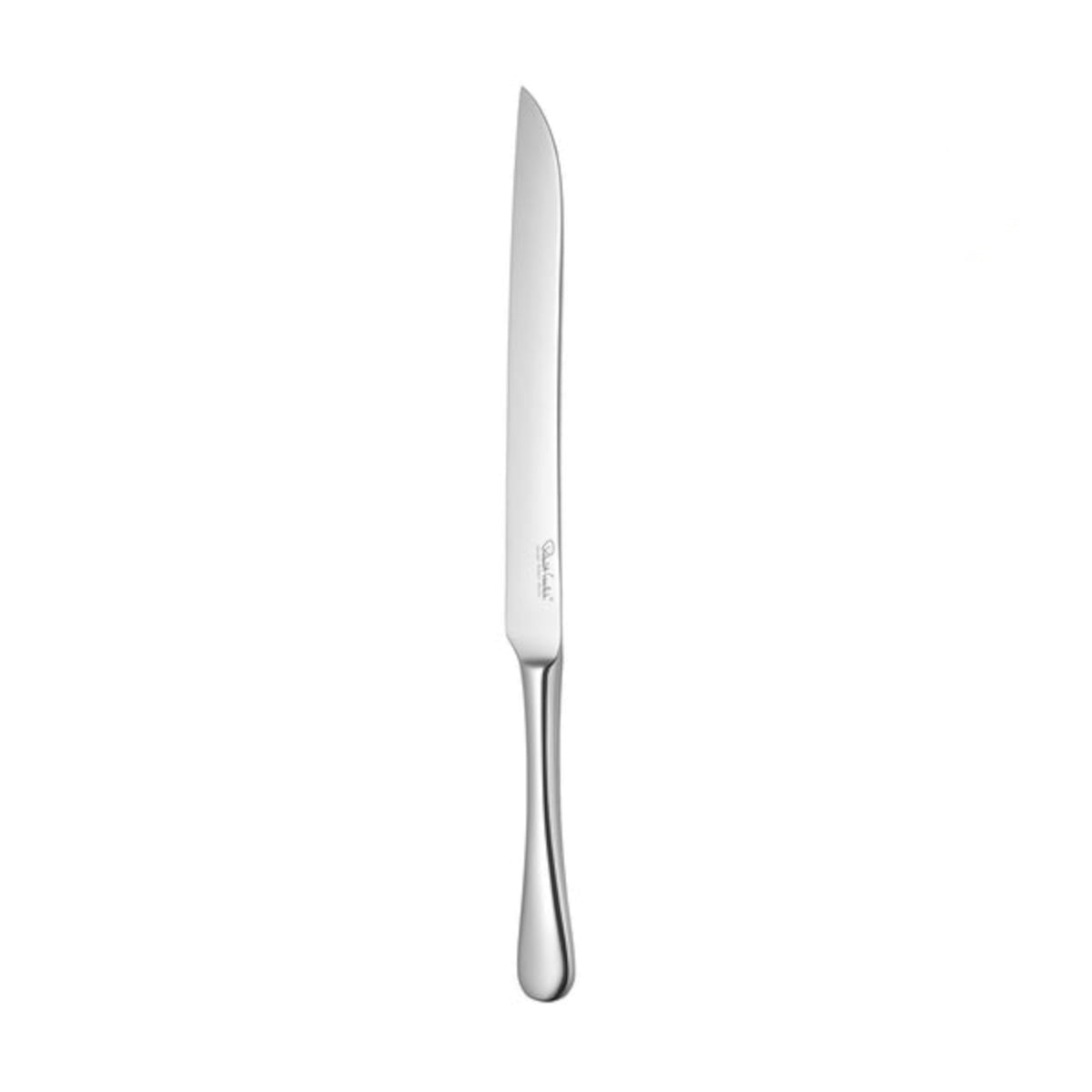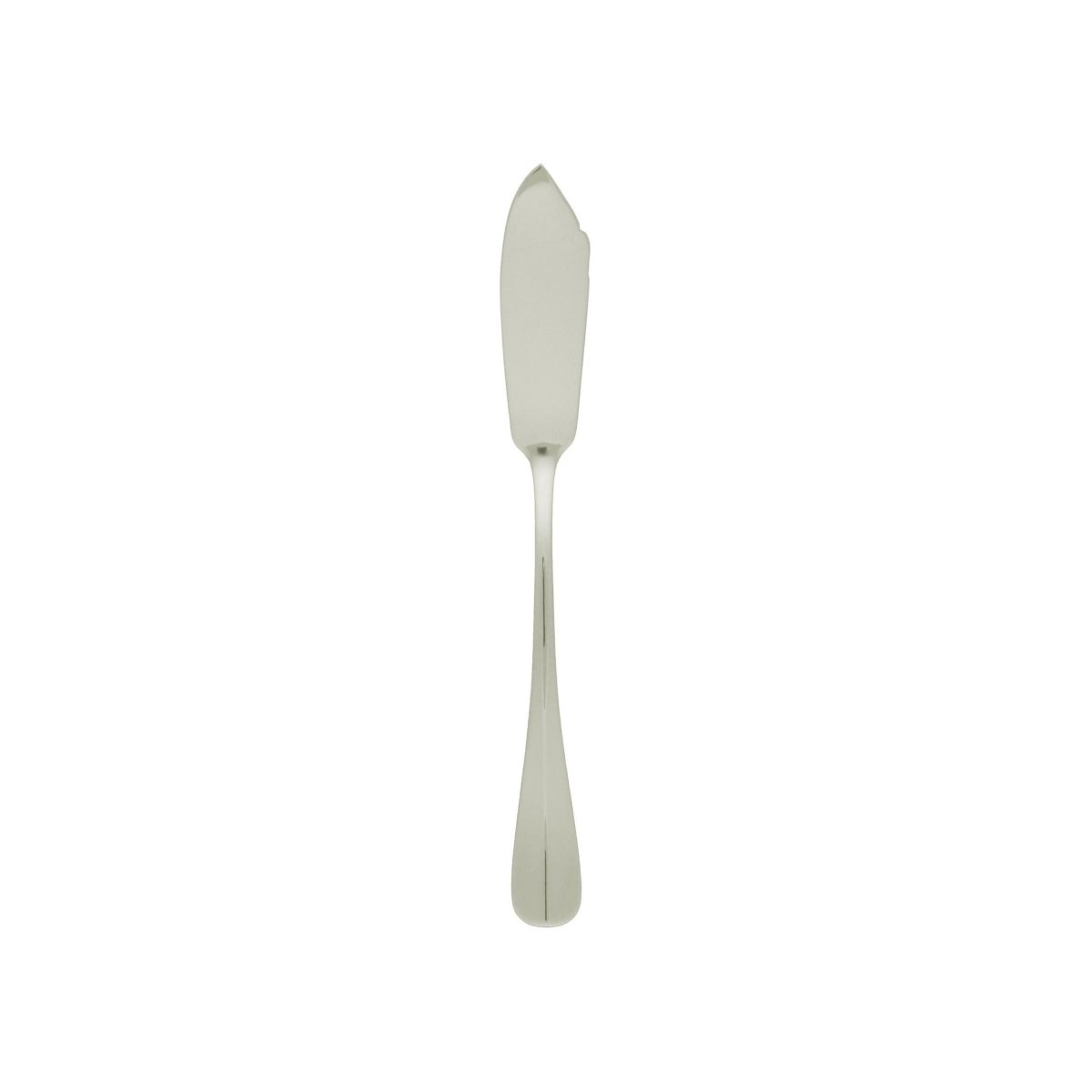 Tablekraft Bogart Fish Knife
Symmetrically contoured, with an all mirror polish, the conventional design of the Bogart Fish Knife is guaranteed to make a big impression.
We can thank the Ancient Egyptians for the forks they used during religious sacraments and the Greeks for the flesh forks they would use to pull meat from cooking pots.
Derived from the Latin word furca, which means 'pitchfork', commoners began regularly using forks in the Byzantine Empire from the 4th century. However, they wouldn't have become the powerhouse dining utensil it is today without the wife of Henry II, Catherine De Medici. In 1533, Catherine brought early versions of forks with only two prongs back to France from a trip to Italy.
Some historians have even pointed to the rise of pasta in Italian culture as the reason forks became so popular. However, it was German engineers that had the brilliant idea to add the third tine (a prong or sharp point) we now take for granted.
Minimax Fork Recommendations
Tablekraft Bogart Dinner Fork
Because sometimes simplicity is king, these forks feature an attractive bevelled contour and an all-mirror finish of the 18/10 stainless steel.
Tablekraft Elite Table Fork
Restaurant grade cutlery at home! These forks feature a handle with an hourglass style shape and a satin finish that blends into a high-gloss utensil end.
Tablekraft Bogart Oyster Fork
Perfectly sized for picking out the catch of the day and made from high-quality 18/10 stainless steel ensures a superior shine for your cutlery.
Many would be surprised to learn that early versions of spoons were not made of metal but timber. The word spoon is derived from the Anglo-Saxon word spon, which means 'a chip of wood', though spoons were also crafted from shells or bones before metals such as bronze, pewter, and even silver became more popular during Roman times.
Minimax Spoon Recommendations
Tablekraft Elite Soda Spoon
Inspired by dining on New York's Upper East Side, and designed in Australia, the Soda Spoon is found on the tables of cafes and restaurants all over the country.
Concept Japan Komon Soup Spoon Set of 4
Add to a traditional Japanese dining experience using these beautifully shaped porcelain spoons adorned with an intricate design in a stunning shade of blue.
In Japan or China, for example, instead of spoons, bowls of food are more often raised to the mouth with a pair of chopsticks used to shovel food into your mouth. Traditionally made of wood, bamboo, metal, ivory, and ceramics, chopsticks are pairs of equal-length sticks used as both kitchen and eating utensils.
While they might be considered more of a cutlery accessory in our world of knives, spoons and forks, chopsticks are still a fabulous addition to any dining table and a must-have if you're serving traditional dishes eaten with chopsticks like dumplings or noodles.
Minimax Chopsticks Recommendations
It's at this point in our journey that we arrive at combination-cutlery items, or in this case, the splayd. A knife, a fork and a spoon, all rolled into one! First seen in the 1940s, this proud Australian invention comes courtesy of William McArthur and features an overall spoon shape with four fork tines; it has two hard, flat edges on either side, suitable for cutting through soft food. If you love a good splayd, grab a set of 6 original Mirror Stainless Steel Splayds.
While fine dining aficionados may turn their nose up at this triple-threat invention, the splayd has uses beyond the dinner table favoured by those with feeding difficulties following arm injuries or surgery, making them a regular sight in hospitals. For this reason, they are also quite popular with children and an excellent choice for kids' cutlery.
We can't forget the little ones at the dinner table who may not be old enough to appreciate the fine china and silverware on the table. Moreover, their mouths may not be big enough for the cutlery that mum and dad use at dinner. Children's cutlery, like those from Stanley Rogers, is a fabulous option for children to refine their cutlery skills as they transition from eating with their hands and finger food.
For example, the Stanley Rogers Fairy Tale Kids Cutlery Set of 4 features a different design - princess, mermaid, fairy and unicorn - on each handle, while the Dinosaur Cutlery Set of 4 features dinosaurs across the set.
Once upon a time, everyone had a set of reusable cutlery for meal times. Since no one had enough cutlery for guests, travel kits were a popular option before modern cutlery sets became a mainstay of the dining table. Nowadays, reusable cutlery sets are favoured for their sustainability benefits.
Reusable cutlery sets like the Wheat Straw Set of 3 Travel Cutlery aim to eliminate single-use plastic cutlery with a knife, fork and spoon in a slim and compact travel case. Made from a lightweight and durable blend of polypropylene and wheat straw, a waste product of wheat grain harvesting, you can use them repeatedly with a quick wash in between uses.
RetroKitchen takes things a little further with the Carry Your Cutlery Criss Cross set, with a pair of chopsticks, a straw and a straw cleaning brush to go along with your standard fork, knife and spoon. Made from high-quality 18/10 stainless steel, you can store each utensil inside the beautiful and hygienic metal carry case.
On the more straightforward side of things is the Porter Terrazzo Stainless Steel Utensil Set. This no-fuss, no-frills reusable cutlery set is simply a treat to carry and for meals on the go, thanks to the funky silicone case.
We've gone in-depth about pantry organisation and our list of storage tips and ideas for the kitchen. But what about storing cutlery? The obvious solution is a drawer and a compartment cutlery tray to separate all your dining utensils, making them easy to grab at mealtime.
Others may go for more quirky options like storing their cutlery in jars or cans, though we'd highly recommend placing them with the handle facing up to avoid touching them with your hands.
However, if you've just purchased proper cutlery for your next dinner party, the best method for storing cutlery is in the box, all neatly displayed inside its fabric-lined packaging. But if it's already in the bin, you could always make yourself a custom cutlery tray or line a drawer with fabric to protect your precious silverware.
Minimax Top 5 Cutlery Sets
As we go through our top five Minimax cutlery sets, we'll mark each as casual or formal dining. We make this distinction based on what's included in each cutlery set. Some will consist of additional cutlery items for entrees, mains and dessert, while others will stick to the basics - forks, knives, tablespoons and teaspoons - that can be used for any meal.
1. Casual Dining - Tablekraft Elite Cutlery Set (32 Piece)
Experience elite elegance with this contemporary 32-piece cutlery set from Tablekraft. Each piece of their Elite Cutlery Set is designed with simplicity and comfort, features teardrop-styled handles and is crafted to the highest standard, making them a regular sight in cafes and restaurants all over Australia.
8 Table Forks
8 Table Knives
8 Dessert Spoons
8 Teaspoons
There's enough cutlery to cater for the whole family and an extra guest or two. Turn every meal into a feast, be it a festive dinner, a casual brunch or lunch with the family with the Tablekraft Elite 32-piece Cutlery Set.
2. Casual Dining - Laguiole Jean Dubost Deluxe Cutlery Set Light Horn (24 Piece)
Breaking away from the traditional all steel or all silver cutlery sets is the 24-piece Laguiole Jean Dubost Deluxe Cutlery Set. Featuring high-grade stainless steel crafted by experts in France, the cutlery handles are made from high-impact, lightweight ABS plastic, ensuring durability and high mechanical strength. This set of dishwasher-safe cutlery features:
6 Steak Knives
6 Forks
6 Dessert Spoons
6 Teaspoons

One thing to note is that the Jean Dubost Simplicite Range is machine polished rather than hand polished, making it a more affordable option without compromising on quality. Each blade is stamped, ground and polished with over 25 manual production stages.
3. Casual Dining - KROF Champagne Gold Cutlery (24 Pieces)
Even your dining table could do with a collection of beautifully crafted instruments like the 24-piece KROF Champagne Gold Cutlery Set. The idea behind these immaculate dining utensils is the belief that you should never have to wait for the perfect moment to use your best cutlery. KROF enables everyone to dust off the special crockery and put the ceremony and pleasure into the present moment, with a set that includes:
6 Forks
6 Knives
6 Dessert Spoons
6 Teaspoons

Each Australian-made cutlery item merges the complementary skills in design and hospitality of product designer Nicholas Johnston and restaurateur Kristian Klein. Using the highest-grade materials, precise German forming machinery, and hand-polishing mastery, the KROF Brushed Cutlery Set is created for any table worth setting, any guest worth inviting and any meal worth eating.
But if Champagne Gold isn't to your taste, KROF offers a few more colourways, including brushed silver, matte black, gold and silver.
4. Formal Dining - Robert Welch Radford Bright Cutlery (56 Pieces)
Robert Welch designs their cutlery sets with a timeless elegance that maintains both affordability and functionality, and their 56-piece Bright Cutlery set is no exception.
8 Table Knives
8 Table Forks
8 Soup Spoons
8 Side Knives

8 Dessert Spoons
8 English Teaspoons
The entire set is backed by a lifetime guarantee to ensure the utmost quality for your dinner table.
5. Formal Dining - Stanley Rogers Baguette Cutlery Set (88 Pieces)
If 56-pieces of cutlery isn't enough, Stanley Rogers has you covered with a massive 88-piece stainless steel cutlery set. Backed by a 50-year guarantee and crafted from premium 18/10 stainless steel, the 88-piece Stanley Rogers Baguette Cutlery Set offers everything you need and more to properly set your table, with enough left over for a second table. Featuring a beautiful mirror polish finish and elegant up-turned handles with a central fluting, included in this set are:
12 Dinner Knives
12 Dinner Forks
12 Entrée Knives
12 Entrée Fork

12 Dessert Spoons
12 Soup Spoons
12 Teaspoons
2 Salad Forks
2 Salad Spoons
And a gift box to store it in!
And thanks to the specially hardened stainless steel, it's sure to last long enough to pass it down to the next generation.
Of course, much of the world still enjoys eating with the oldest form of cutlery, hands. Still popular in African, Indian and Middle Eastern cultures, traditionally, only your dominant hand is used for eating, while the other is kept clean for passing dishes or serving others.
A commonplace practice in the Middle Ages, peasants would eat with their hands and use old pieces of bread called "trenchers" to gather food.
Eating with your hands, or scooping up food with your finger and thumb, is not only considered the most natural way to eat food but there may be some added benefits from this tactile eating method, namely 'finger flora'. According to Ayurvedic studies ( a system of traditional medicine native to India), every finger is an extension of the five elements, and as such, eating with your hands is a sensory experience stimulated not just through your sense of smell and taste but also touch.
If you're after the same sensual eating experience, don't throw away your cutlery just yet. Ayurvedic logic supports eating utensils and cutlery so long as it fills you with as much joy as it does food. So with that in mind, let's go through some of the most common cutlery items you'll find at the dinner table.
The Minimax Dining Experience