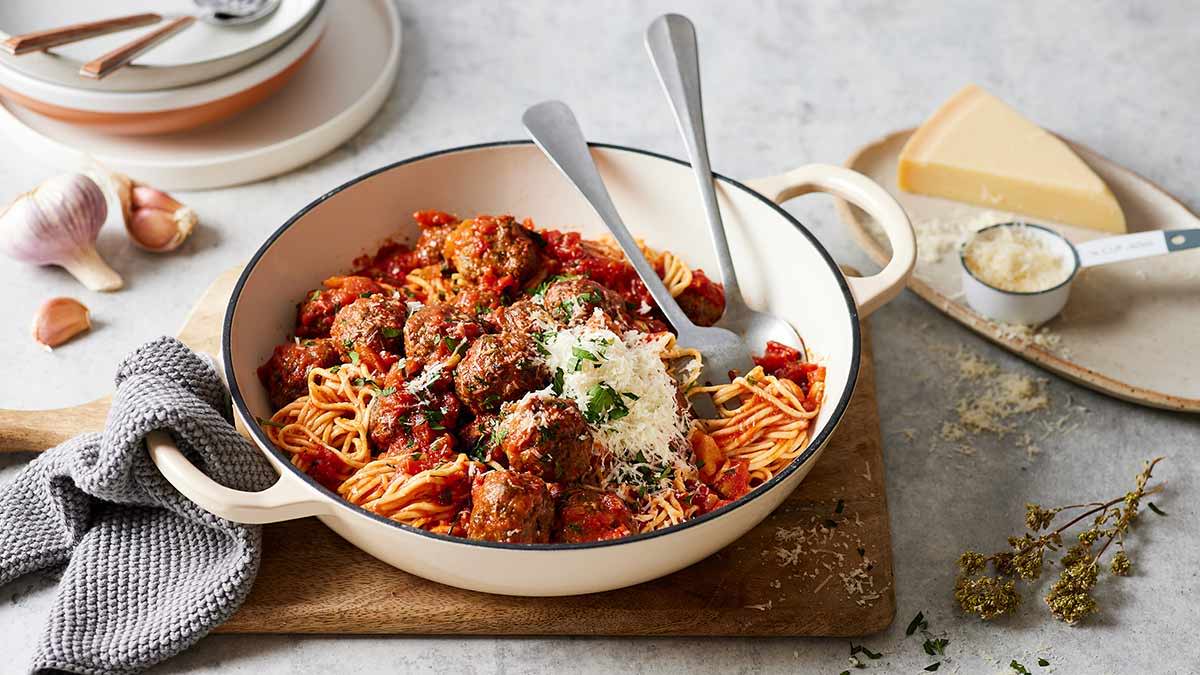 A classic winter warmer that's bursting with flavour, this rustic Italian spaghetti and meatballs is quick and easy to make thanks to the 3 piece pasta attachment.
Makes: 4 serving
Prep Time: 30 mins
Cook Time: 20 mins
2/3 cup milk
1 cup dried multigrain bread crumbs
1 kg beef, roughly cubed
1 medium onion, finely diced
2 cloves garlic, minced
1 free range egg
1/2 cup parmesan cheese, grated
1/4 cup parsley, roughly chopped
2 tsp dried oregano
Pinch sea salt
For pasta:
400g tipo 00 flour, plus extra for dusting
4 large free range eggs
1-2 tbsp water (if required)
For sauce:
1/4 brown onion, diced
2 cloves garlic, minced
2 tbsp tomato paste
400g can diced tomatoes
2 tsp dried oregano
Olive oil for cooking
To serve:
Extra parmesan cheese, grated
Parsley, finely chopped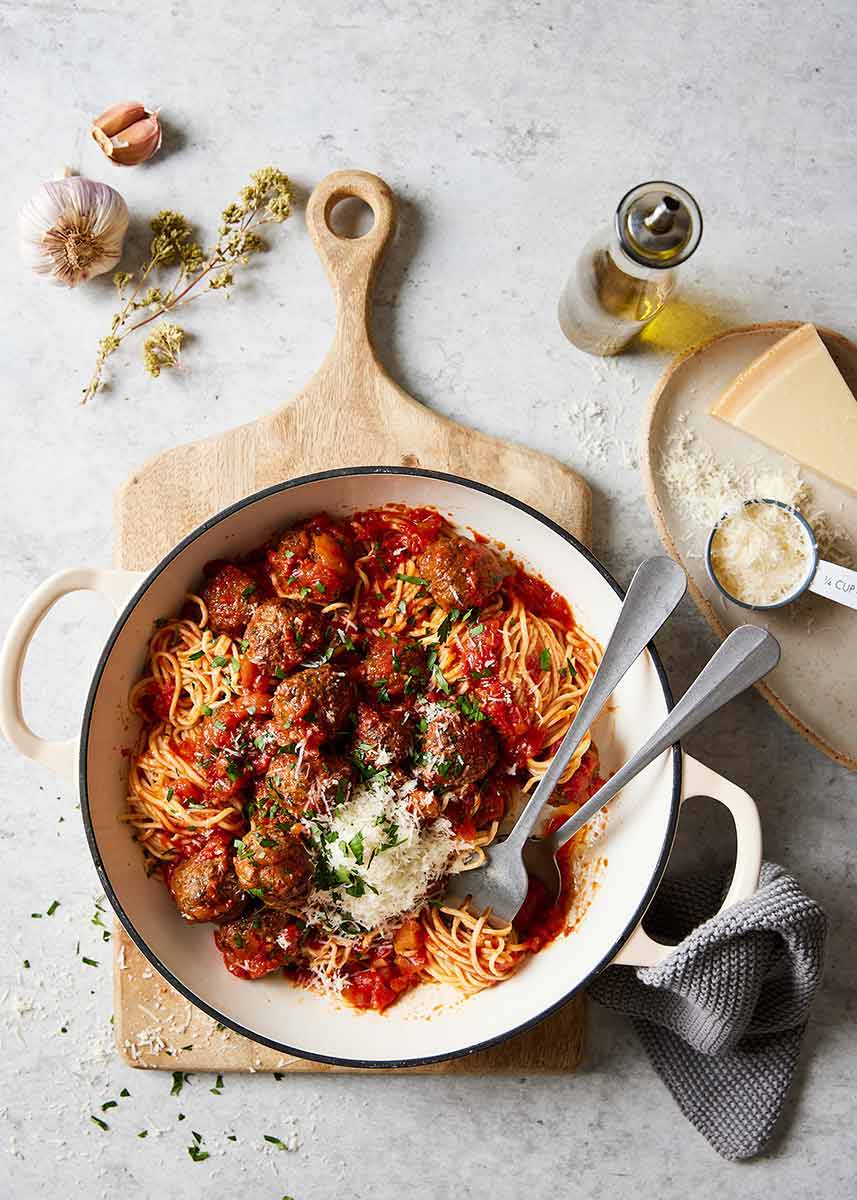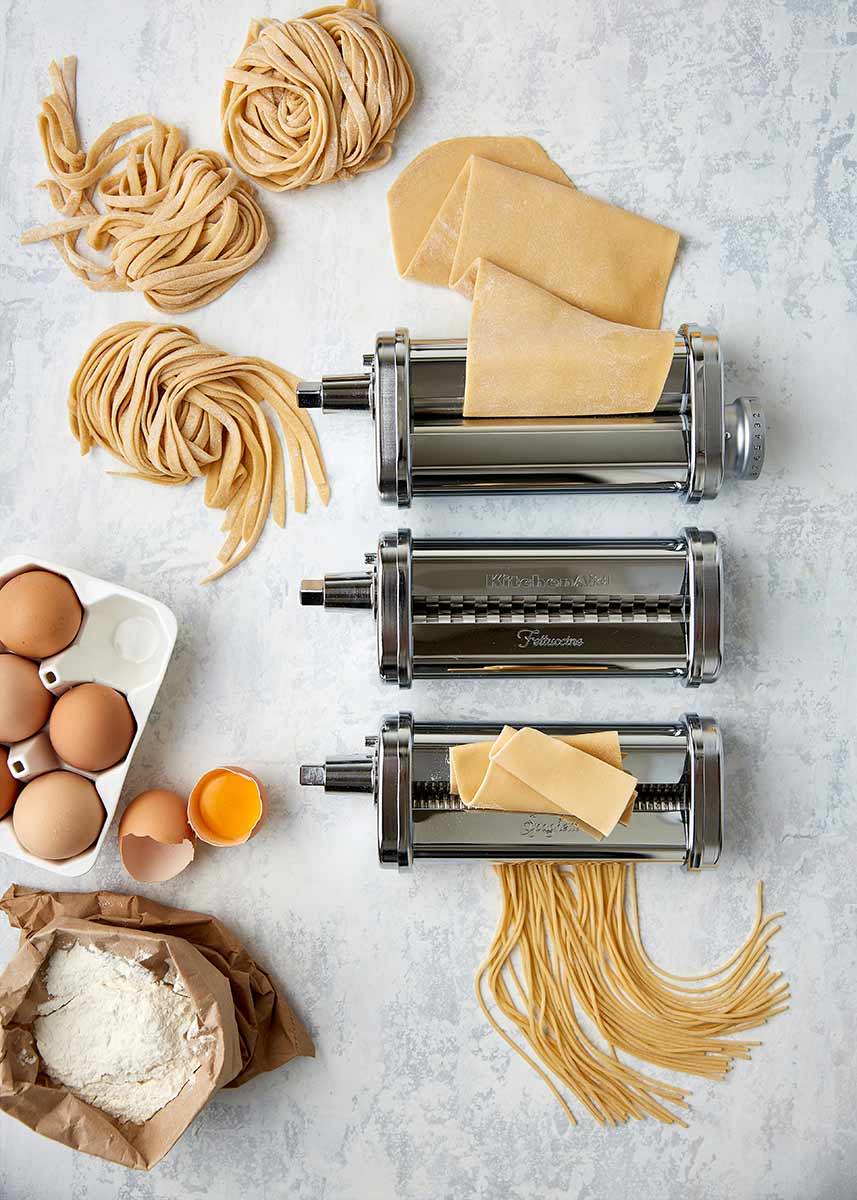 To prepare the fresh pasta dough, sift the flour into your stand mixer bowl, and attach the dough hook.

Break eggs in a cup and mix in with a fork. Add the eggs to the flour and start mixing slowly on speed 1, working your way up to speed 2-3. Depending on the egg size used, 1-2 tbsp of water can be added if the dough is too dry.

When the pasta dough starts to come together turn it out onto a clean bench, dusted with a little flour and knead for about 3 minutes until smooth. Wrap pasta dough in plastic wrap and refrigerate for at least 30 minutes.

Chop dough into 4 pieces and flatten one piece slightly into a neat rectangle, wrapping the remaining pieces in plastic wrap to prevent them drying out.

Attach the pasta roller attachment to your KitchenAid Stand Mixer, starting on the widest setting (1). Pass the flattened piece of dough through the machine a few times, folding each time to start with. Increase the notch's 1 at a time up until notched 5 or 6.

Dust lightly with flour if it starts to stick and if it becomes too long to handle, cut it in half and lay on a dusted tray flat while the remaining dough is rolled out.

Attach the spaghetti cutter attachment to your KitchenAid Stand Mixer and pass each sheet of dough through. Hang the homemade pasta on a rail to prevent it sticking.

When you're ready to cook the spaghetti, bring a large stock pot of salted water to a boil over high heat. Add the spaghetti and cook 5-6 minutes until al dente and drain. Reserve the drained liquid for the sauce. Drizzle a little olive oil over the pasta to prevent it sticking.

Meatball recipe: Fit the fine mince blade to the food grinder and attach to the KitchenAid stand mixer. Chop and then feed the cubed beef through the grinder to mince the beef into ground beef meatball mix, and add to a large mixing bowl.

Combine in a separate small bowl the dried bread crumbs and the milk. Stir to combine, and allow the meatball mixture to sit for 5 minutes to thicken up.

Combine all of the meatball ingredients into to the large mixing bowl with the mince meat and bread crumb mixture. Using clean hands, mix meatballs until well combined.

Lightly wet your hands and roll out round meatballs on your work surface, then place each meatball on a large baking tray.

Bake in the oven at 180C (fan forced) for 20-25 minutes (or until cooked through) and set aside.

To prepare the sauce, heat up a large heavy base fry pan to medium heat. Add a good drizzle of olive oil, diced onion and minced garlic. Sauté while stirring for a few minutes, until the onions become translucent.

Add the tomato paste, and stir through.

Add the canned diced tomatoes, dried oregano and a good pinch of sea salt then stir though. Allow to simmer for 12-15 minutes while the sauce thickens and the flavour develops, a little pasta water if it becomes too thick.

Add the cooked meatballs and toss through the sauce.

To serve, spoon the meatballs over the top of the pasta with an extra sprinkle of parmesan cheese and chopped parsley.
Stand Mixer & Pasta Attachments
The art of crafting homemade fresh pasta and sauces with the help of KitchenAid's stand mixers and their handy attachments brings about a joyful fusion of ease and creativity. The seamless process of preparing pasta dough, combined with utilising the metal grinder for your flavourful Bolognese sauce or ravioli filling, not only results in a delicious meal but also allows you to nurture a passion for creating fantastic dishes. The effortless journey from kneading dough to the final pasta strands gracing your plate adds to the enjoyment of a truly satisfying homemade meal.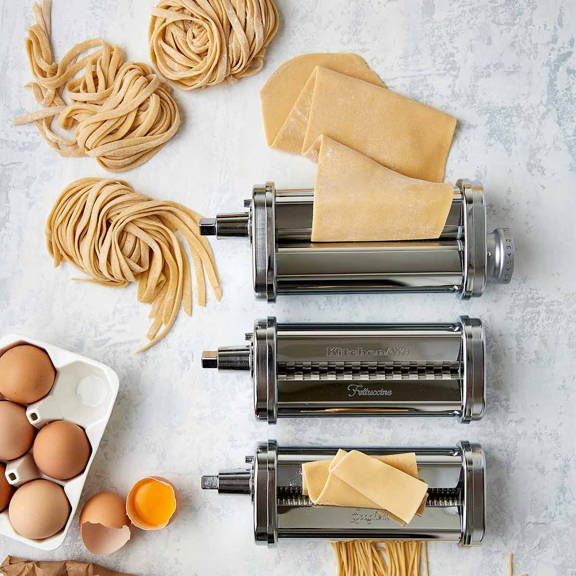 3 Piece Pasta Roller Attachment
Includes roller for thinning and two cutters for crafting fettuccine and spaghetti, this attachment opens up a world of possibilities for homemade pasta dishes.