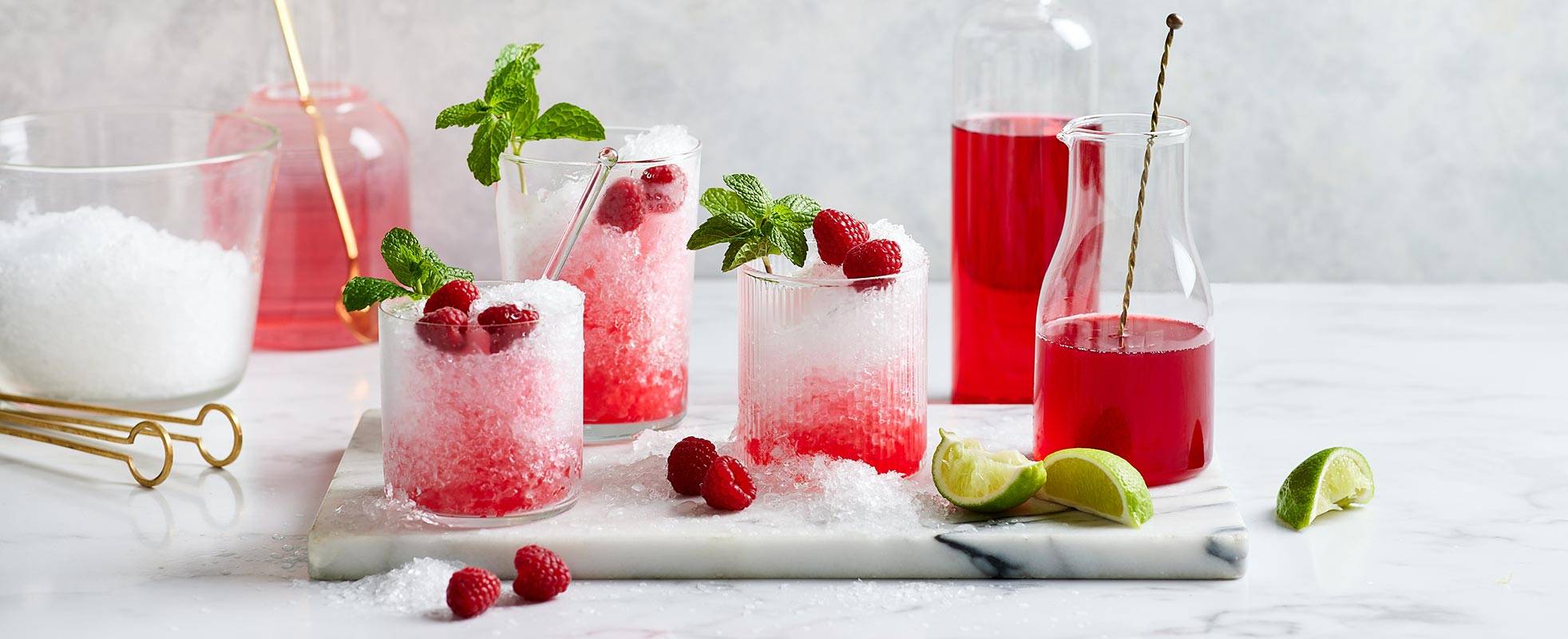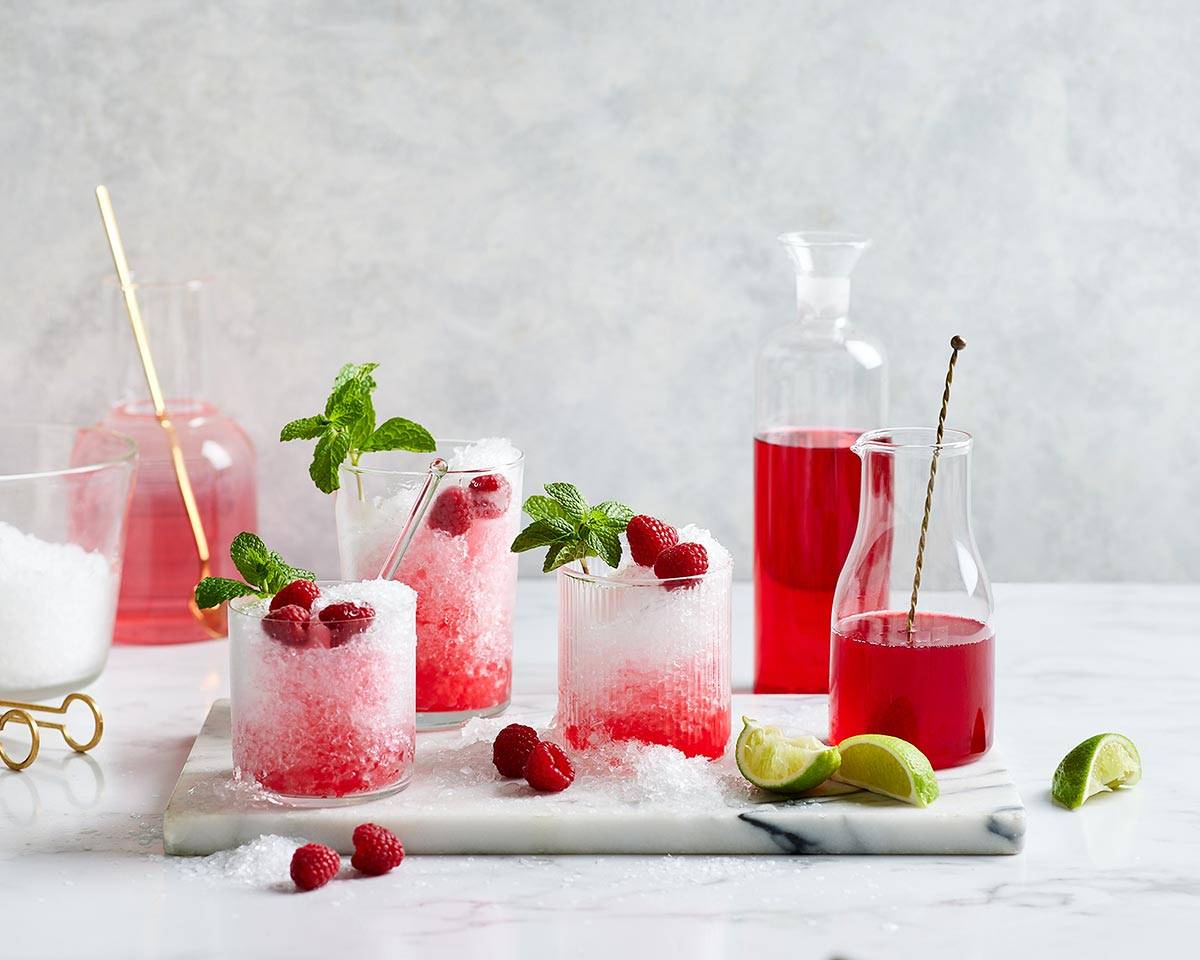 Serves 4
Prep Time: 25 mins plus overnight freezing
800ml water, for ice moulds

500g frozen raspberries
250g caster sugar
400ml water
1 lemon zested
1/2 lemon juiced
Serve:
Fresh raspberries
Mint leaves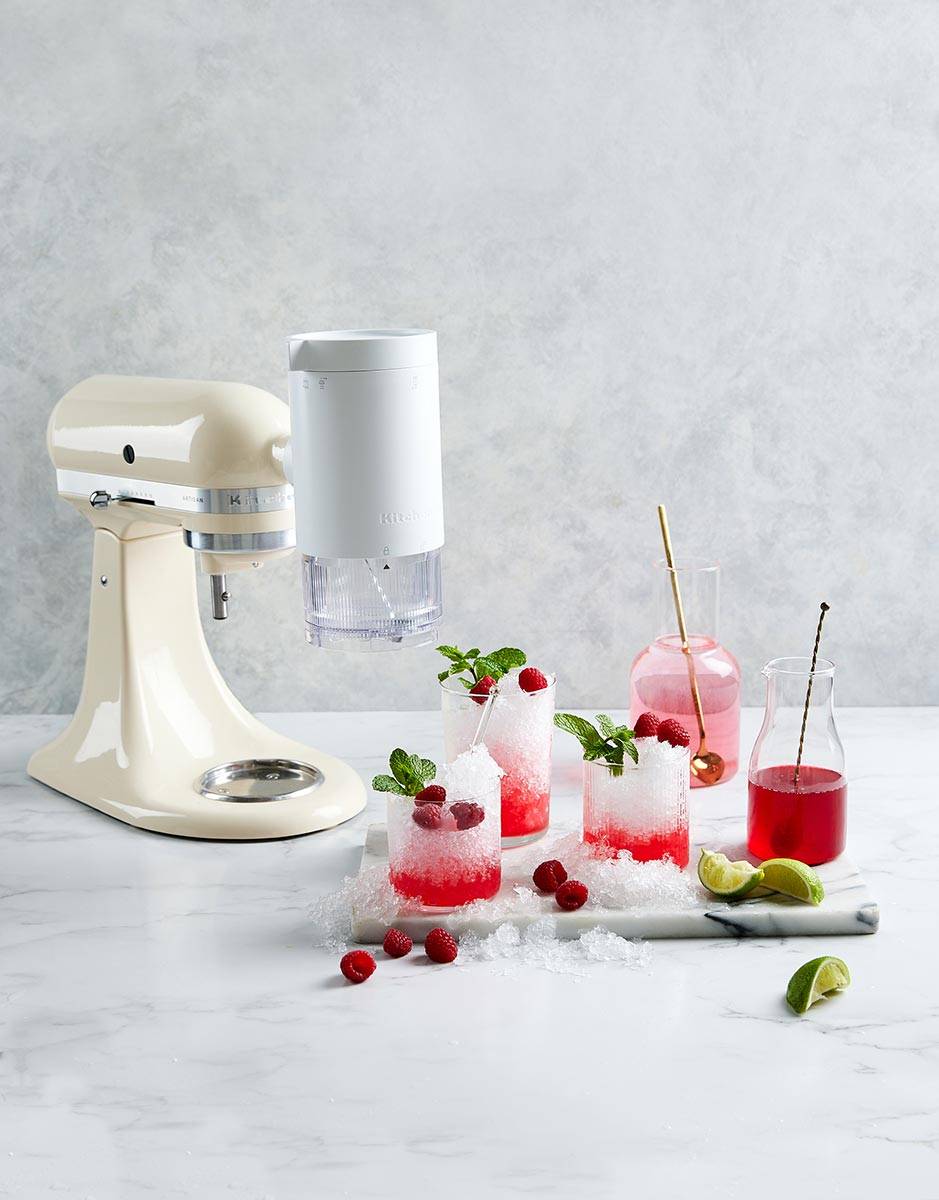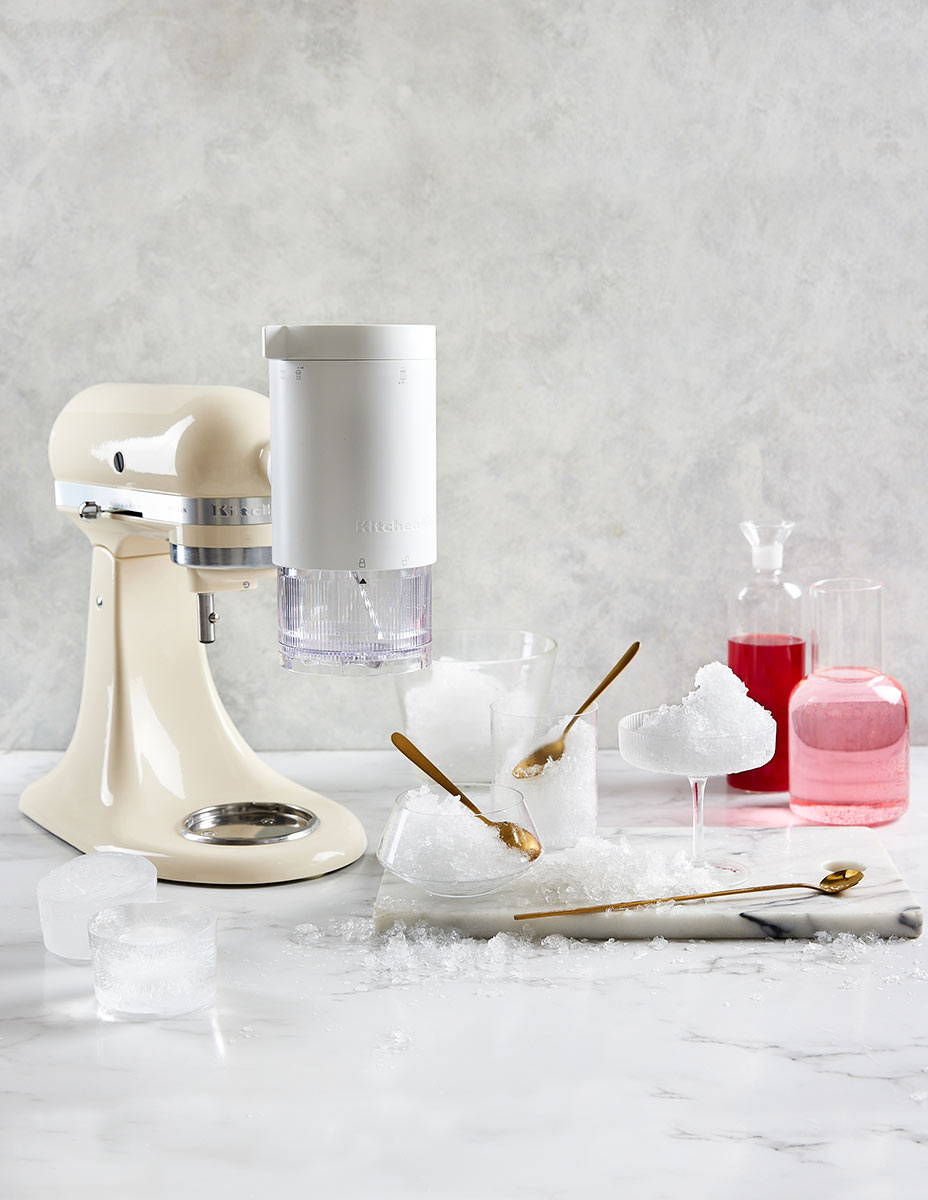 Pour water into the 4 ice moulds and place into the freezer overnight or until frozen solid.

To make the raspberry syrup; combine the frozen raspberries, caster sugar and 400ml water into a medium saucepan on medium heat. Place a lid on slightly ajar and allow the heat to come up to a simmer.

Add the lemon zest and stir through.

Then turn the heat down to low and allow to simmer for 15 minutes while the sauce thickens.

Turn off the heat and add in the lemon juice. Allow too cool down before pouring the syrup into a bottle. Place in the fridge to until serving.

When you're ready to serve, attach the ice shaver attachment to a KitchenAid. Remove the frozen blocks from the moulds and pop them into the attachment, lock it in place. Place a glass underneath to catch the ice, turn the mixer onto 4-5.

Pour over 1-2 tbsp of the raspberry syrup followed by a few extra spoons of shaved ice. Garnish with fresh raspberries and mint leaves. Serve straight away.

The raspberry syrup will keep in the fridge for a fee weeks.
Today, the colourful KitchenAid range can be found in family homes across Australia, America and the United Kingdom. Whether it's our Food Processor, Pasta Roller or Classic Stand Mixer where the story first began, there's a reason we've been invited to join these families.
Our passion is for cooking, for fine food and how it celebrates a connection with our loved ones and our long-standing traditions. We know that a familiar smell, or taste, can instantly take us back in time to special moments we lived long ago. Whether it's Grandma's age-old carbonara or Dad's grilled lamb rissoles on a summer's barbecue, KitchenAid helped bring the meal to the table.
KitchenAid Shave Ice Attachment
Ice Shave is no ordinary frozen treat. Traditionally made by shaving large blocks of ice, its texture is light & fluffy - unlike the hard and crunchy snow cone.
With the KitchenAid® Shave Ice Attachment it's so easy to create light, fluffy and snow-like shaved ice to elevate a variety of desserts and drinks. And the customisation options are endless - freeze and shave, a fine or coarse texture, of freshwater, juice, coffee and milk or dairy.
Then, surprise and delight everyone by offering a variety of syrups, sauces and toppings to finish the dish and make each creation your very own.