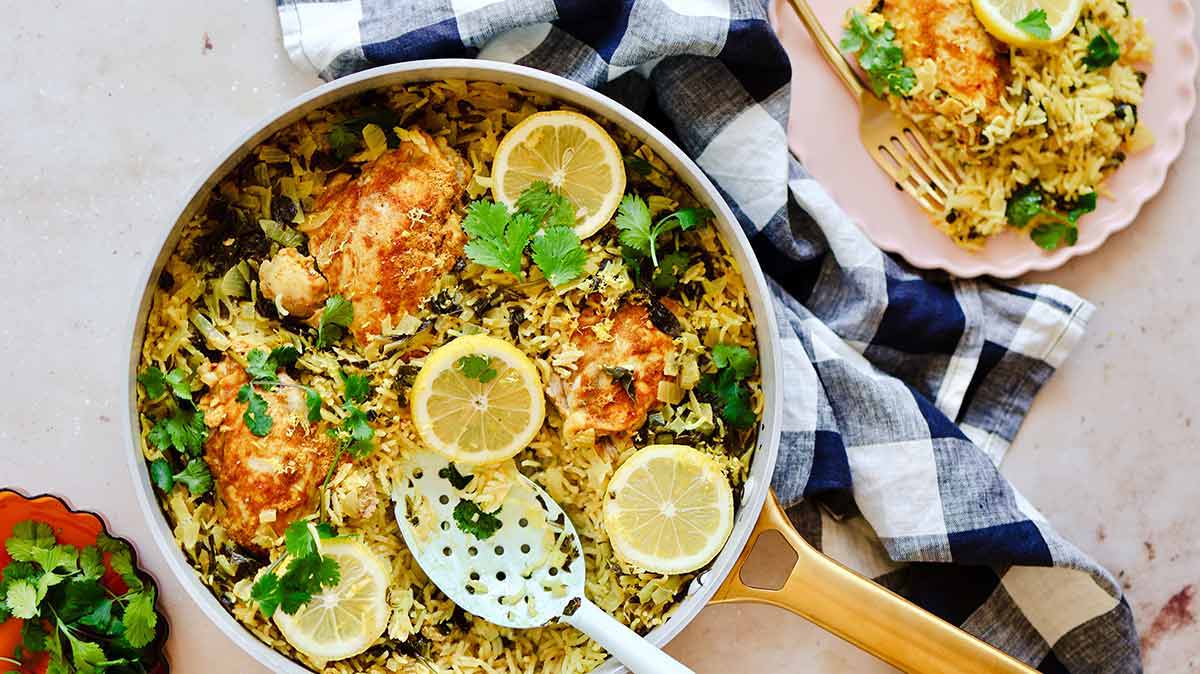 Chicken:
4 chicken cutlets, skin off
2 tbsp extra virgin olive oil
Marinade:
160g natural Greek yoghurt
1 tsp paprika
1 tsp ground cumin
1 tsp ground coriander
1/4 tsp ground cinnamon
1/4 tsp cayenne pepper
1/4 tsp ground turmeric
1 tsp salt
1/2 tsp cracked pepper
Juice of 1 lemon
Rice:
1 brown onion, diced
3 garlic cloves, minced
80g baby spinach, roughly chopped
185g basmati rice
480ml chicken stock
1/2 teaspoon salt
1/4 teaspoon black pepper
1 lemon, sliced, for garnish
Chopped coriander, for garnish
Zest of 1 lemon, for garnish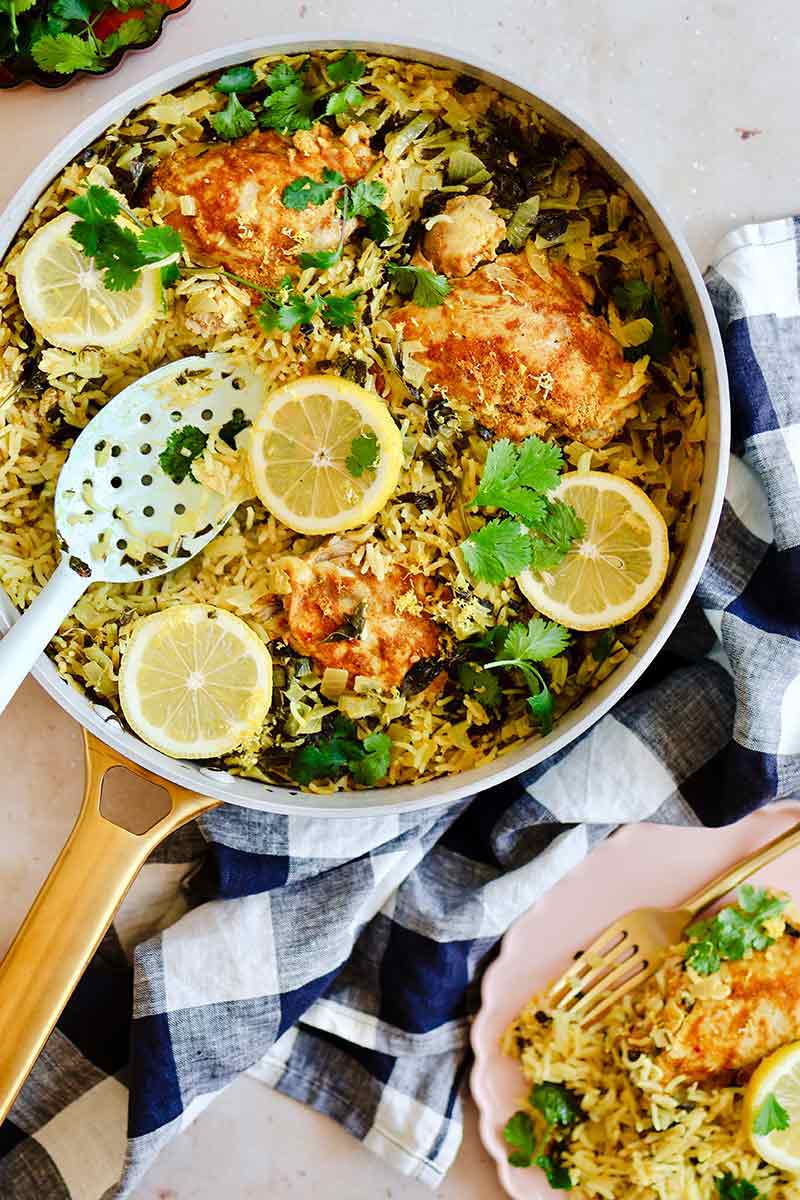 Place all marinade ingredients in a large bowl and mix to combine. Add chicken thighs and turn each

piece to cover. Cover and set aside for 10 minutes, or overnight if time permits.

Heat 2 tablespoons of olive oil in your GreenPan Sauté Pan over medium-high heat. Add chicken and

remaining marinade and cook for 4-5 minutes. Flip chicken and cook for another 5 minutes, then

remove from pan and set aside.

Add the onion and garlic and cook for 2 minutes, or until softened. Next, add the baby spinach and

cook for another minute. Add rice and stir well to coat. Pour in the stock and stir well, then bring to a

simmer. Return chicken to the pan (and it's juices) and nestle into the rice. Cover and reduce to a

gentle simmer. Continue cooking for another 20-25 minutes, or until the stock has been absorbed

and the rice is fluffy. Remove pan from the heat but keep the lid on for another 5-8 minutes.

Top with the sliced lemon, chopped coriander and lemon zest, then serve.
The Healthy Choice for People and the Planet
GreenPan Padova is the ideal choice for the health focussed and environmentally conscious cook. It features a ceramic non-stick coating that is completely free from chemicals, while maintaining excellent performance. Whether you're a seasoned cook or a novice in the kitchen, the GreenPan Padova range is the perfect option for anyone who is looking for quality cookware that is made from natural materials.
I love all things food and will use any excuse to get in the kitchen, from organising endless dinner parties and developing countless recipes. Over the years I have learnt how powerful food is. Not only is it a source of nourishment, but more importantly, it brings everyone together to provide a sense of unity and community. That's where my love for styling and photography comes in - it allows me to tell a story and give the viewer a moment to think, to react, to feel and to understand all the beauty that food has to offer.