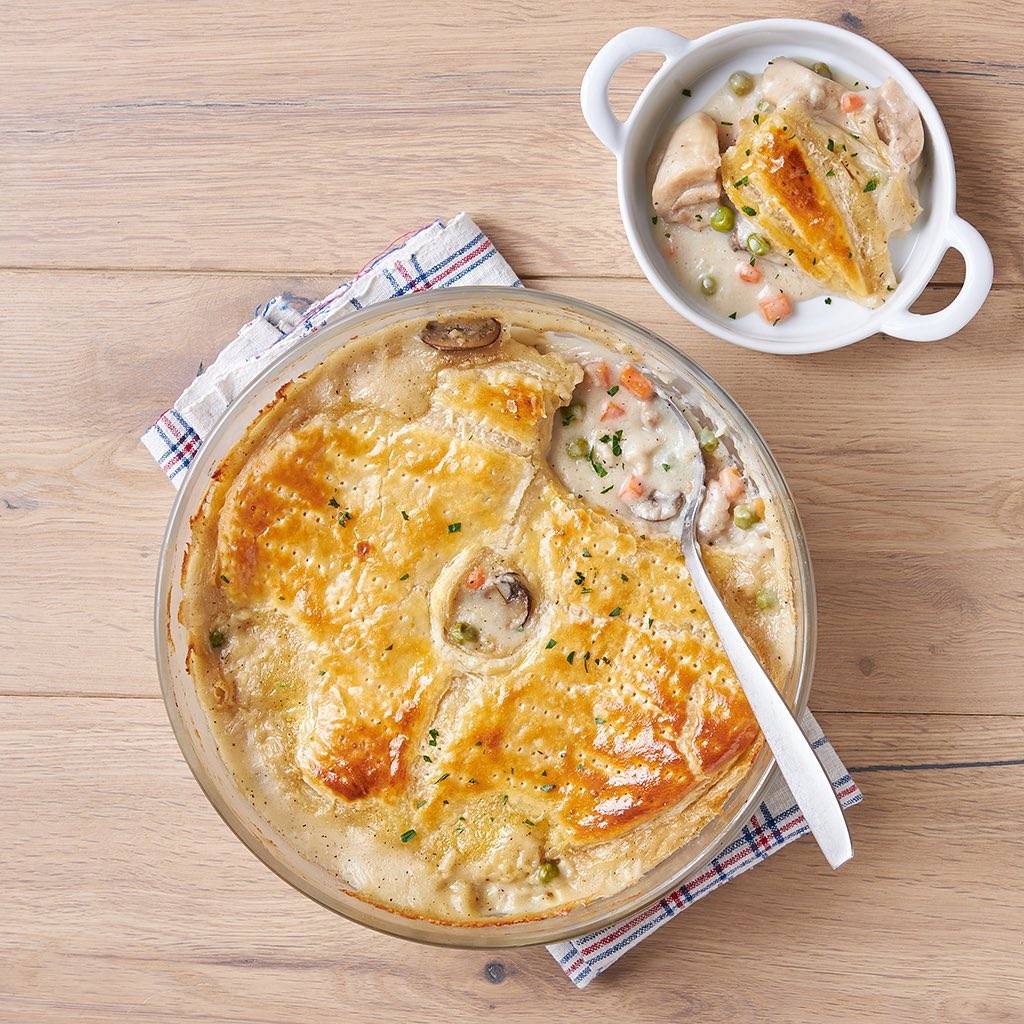 Quickstart this comforting one-dish meal by making the creamy filling, loaded with chicken and veggies, in the microwave. Top it with a sheet of puff pastry and finish it off in the oven for highly delicious (and efficient) results.
Serves: 2-3
Wattage: 1000w
Prep Time: 10 mins
Cook Time: 21-32 mins
½ tablespoon unsalted butter
¼ cup (30g) carrots, diced
2 (25g) mushrooms, thinly sliced
8oz (225g) boneless chicken thighs, cut into 1" cubes
¼ teaspoon salt
½ teaspoon black or white pepper
¼ teaspoon garlic powder
¼ cup (60ml) heavy cream
¼ cup cornstarch
¾ cups (180ml) chicken stock
¼ cup (30g) frozen peas
1 sheet of puff pastry, thawed
1 egg yolk, whisked with a splash of water
Preheat oven to 400°F. Place the butter, carrots, mushrooms, chicken, salt, pepper, and garlic powder in the Anyday dish and mix well. Cover with the lid (knob lifted). Cook for 4 minutes, or until chicken is almost fully cooked.

Add the cream, cornstarch, and stock and stir until fully incorporated. Cover and continue cooking for 2-3 minutes, stirring halfway, until it thickens.

Add the peas and mix well. Cover the filling with a sheet of thawed puff pastry.

Brush the dough with the egg wash and bake in preheated oven for 15-25 minutes or until the dough is golden brown. Allow the pot pie to cool slightly before serving.
Serving Suggestions & Tips
• Substitute the chicken for more veggies for a meatless option.
• For a spicier dish, add a few dashes of hot sauce to the filling before topping with the dough.
• Microwave ovens vary, even with the same wattages. Adjust cooking times as needed.
Anyday Microwave Cookware & Storageware
Anyday Microwave Cookware, the ultimate microwave cooking essentials, will save you so much time in the kitchen that you might just take up a new hobby. With these innovative cookware pieces, you can effortlessly create ridiculously fast and delicious meals from scratch for weeknights and rushed mornings. Plus, when it comes to leftovers, there's no need to worry. You can easily reheat your food evenly in the same container or opt for a single-portion small dish for ultimate convenience.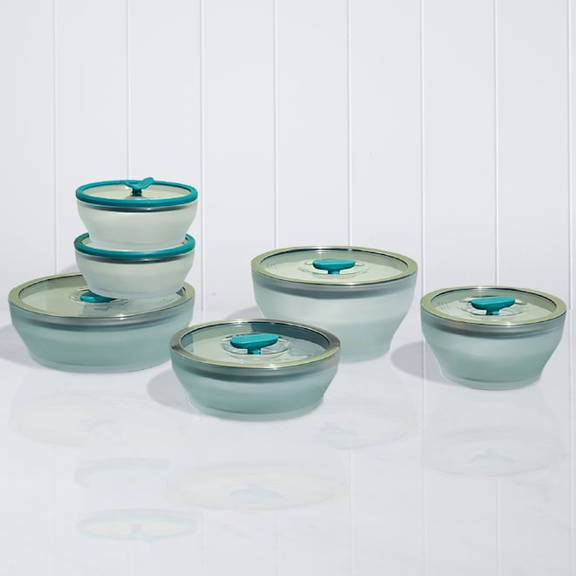 Anyday 6 Piece Glass Storage Dish Set
Prep, Cook, Serve & Store
Set includes 22cm large shallow dish, 20cm large deep dish, 18cm medium shallow dish, 16cm medium deep dish & 2 x 14cm small dishes.