A simple, yet stunningly festive Christmas dessert that can easily be prepared beforehand. Wonderful as a centrepiece and everyone gets their own mini Pavlova!


Crispy meringue shells with fluffy marshmallow centres, topped with white chocolate cream, fresh raspberries and boozy raspberry sauce, then sprinkled with pistachios.


These deliciously festive desserts look stunning on a white backdrop -serve them on a classic white platter for the ultimate wow factor.
PAVLOVAS
4 egg whites
1 cup caster sugar
1/4 tsp cream of tartar
WHITE CHOCOLATE CREAM
125ml heavy cream
80g white chocolate
RASPBERRY SAUCE
1/4 cup sugar
2 tbsp water
125g frozen raspberries (defrosted)
1 tbs Chambord Framboise or Grand Marnier
(optional)
TO DECORATE
fresh raspberries
unsalted pistachio kernels, roughly chopped
Notes:


- Raspberry sauce can be made in advance. It will keep in the fridge for 2 weeks
- Oven temperatures are low for baking Pavlovas and ovens can vary - use an oven thermometer to check the

temperature of your oven before baking
- Raspberry liqueur is optional in the sauce and can me omitted. Add a little extra water if the sauce is too thick
- The white chocolate cream is partly prepared the night before, so allow time for that.
- White chocolate cream pairs beautifully with raspberries, but can be replaced with Chantilly Cream for a quicker and

easier alternative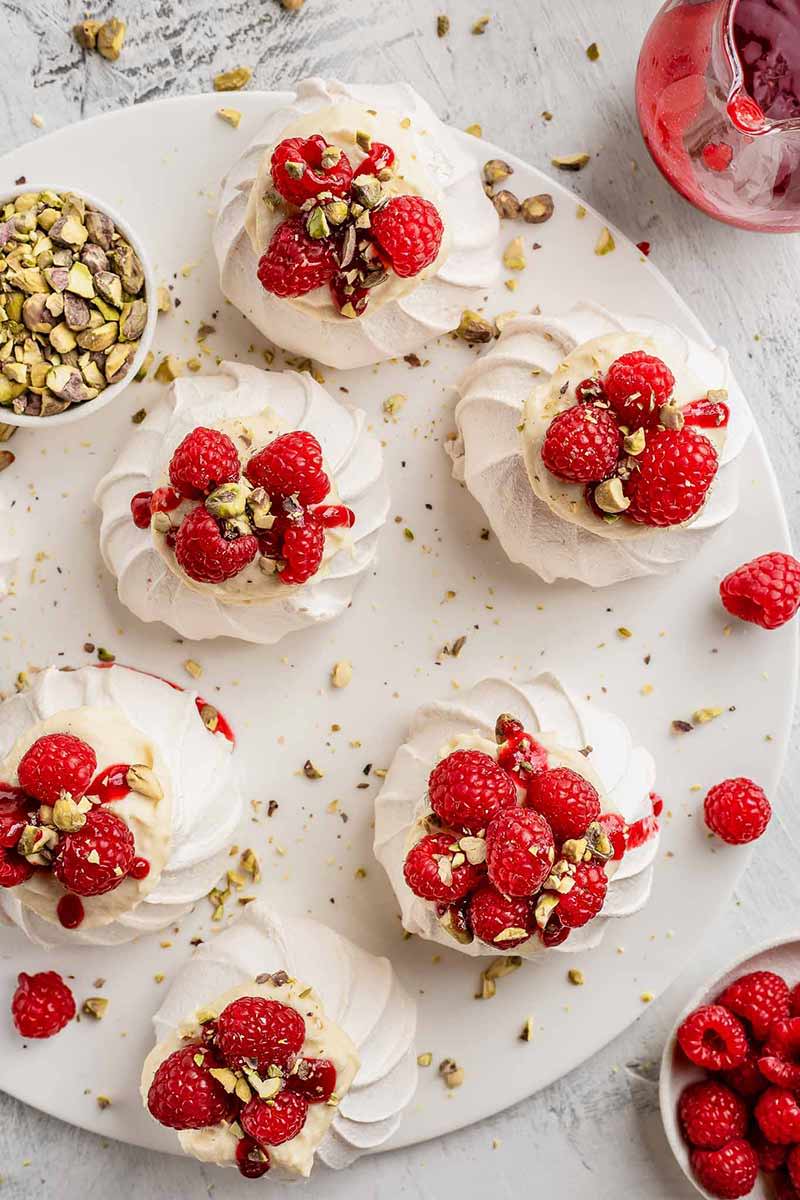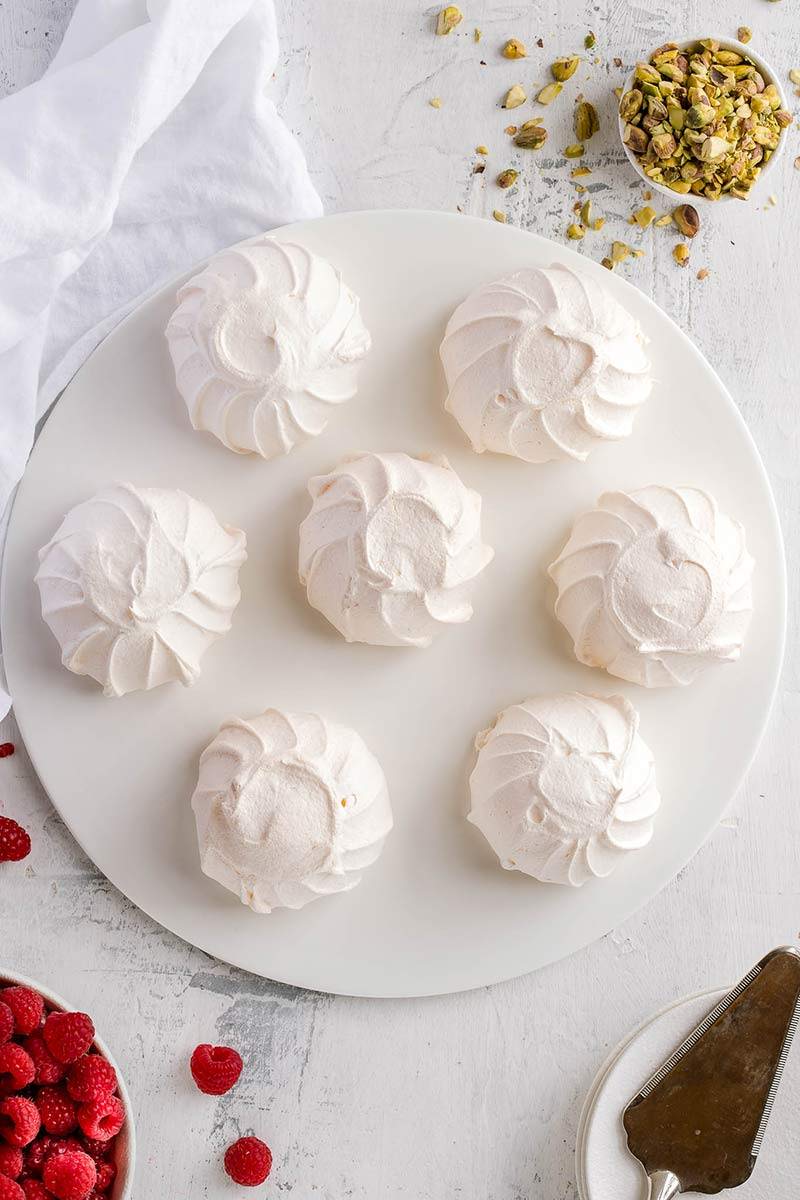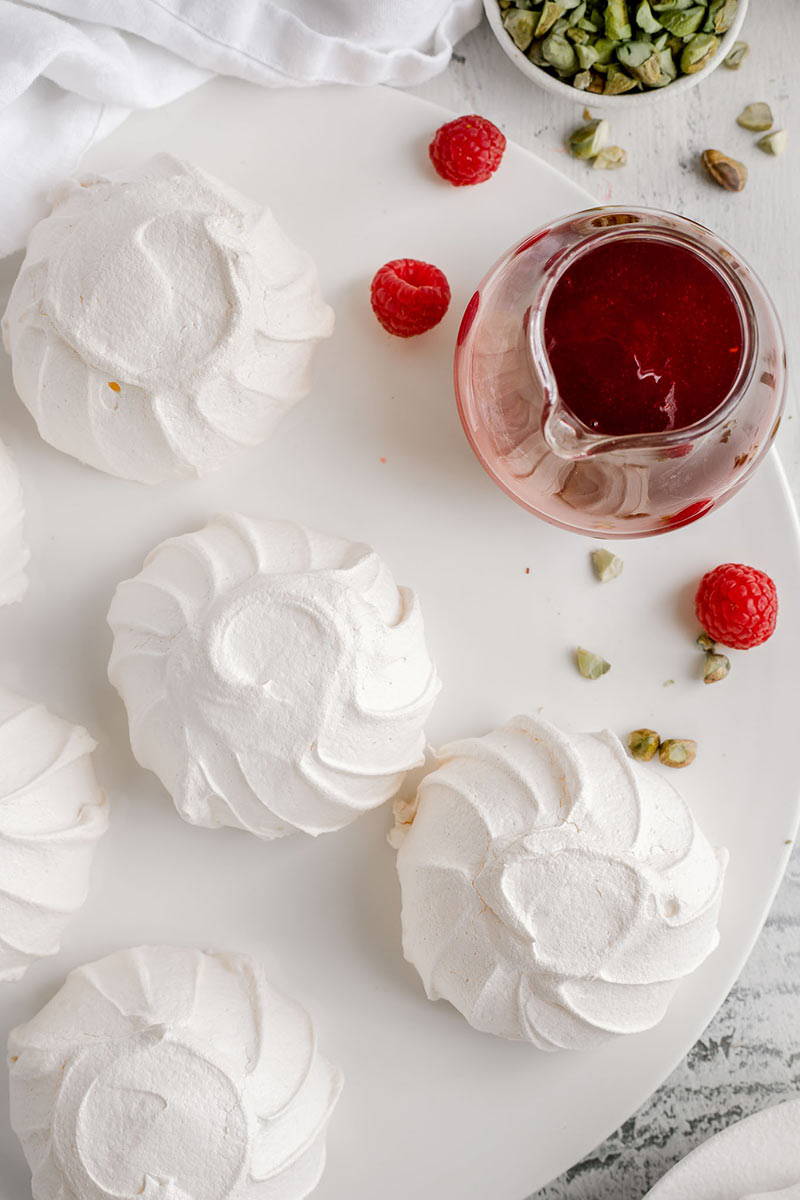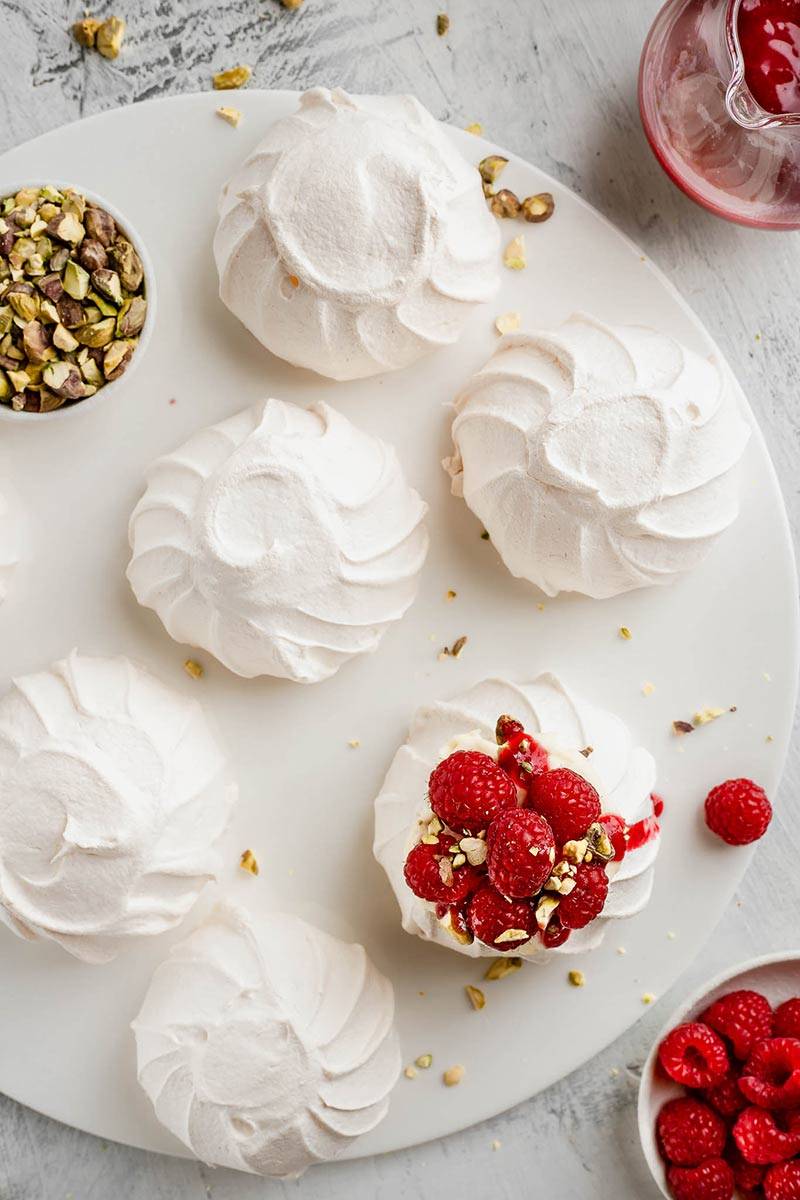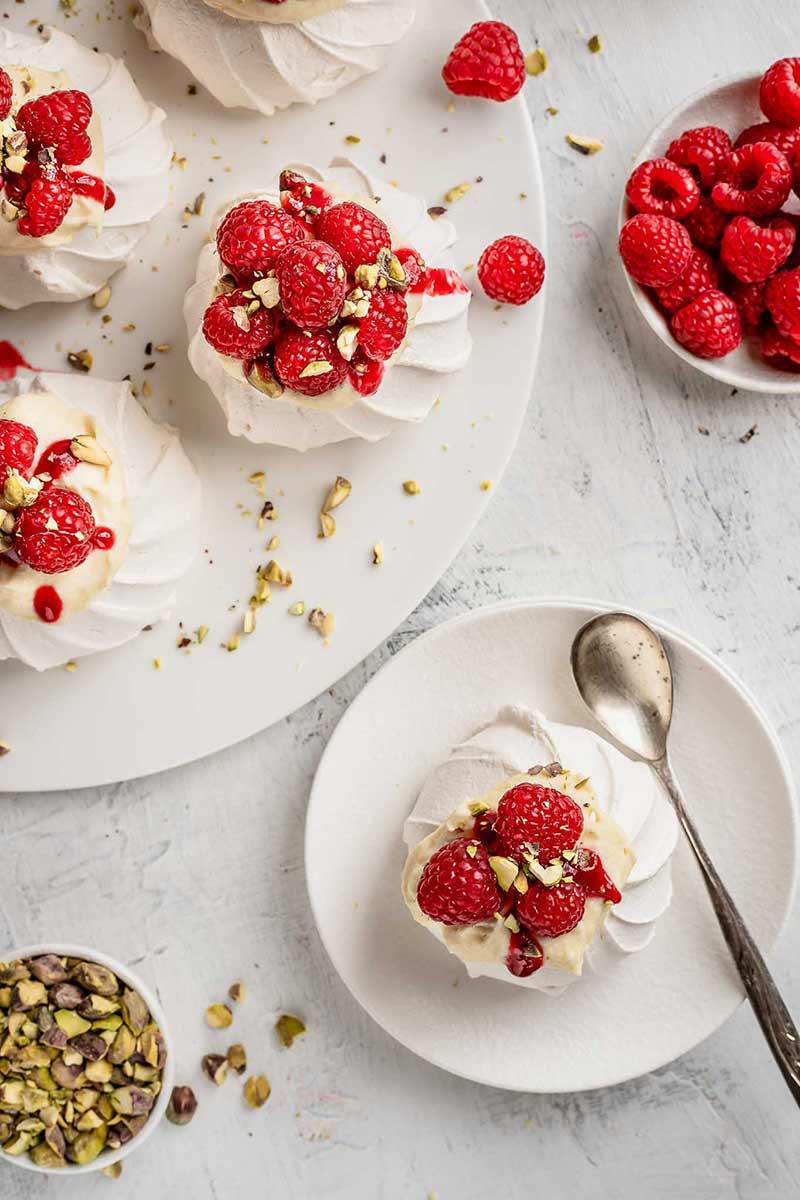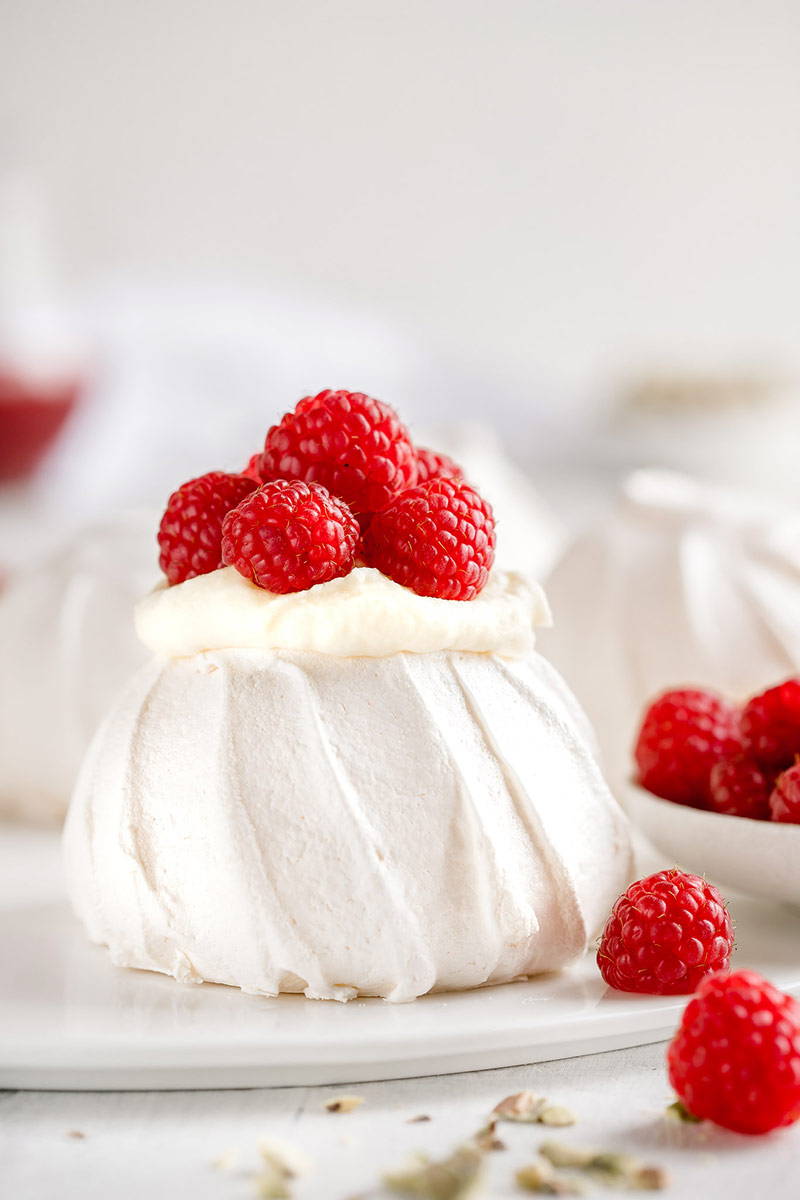 Make the White Chocolate Cream
Place half of the cream and all of the chocolate in a microwave safe bowl and heat on 50% for 1 minute.

Stir the chocolate and cream vigorously, then heat again on 20 second bursts, until mixture is smooth.

Cover mixture with plastic wrap (touching the surface). Cool to room temperature and then place in the fridge overnight.

When ready to decorate the Pavlovas, whisk the chocolate mixture on medium-high until fluffy.

Add the remaining cream and continue to whisk until stiff.
Preheat oven to 120°C/110 Fan/250°F.

Line 2 baking trays with baking paper -use a little of the pavlova mixture to "glue" the corners down.

In the bowl of a stand mixer, whisk the egg whites and cream of tartar on medium speed until it forms

soft peaks.

Gradually add the sugar, one tablespoon at a time, whisking for 30 seconds between additions.

Using a large ice cream scoop, place 2 scoops onto the baking sheet, repeating to make 10 pavlovas (5

per tray).

Use an offset spatula or butter knife to push down lightly, then smooth to form pavlovas into circles.

Using the offset spatula, swipe up diagonally to form grooves.
Just before serving, dollop the White Chocolate Cream onto the Pavlovas and decorate with fresh

berries and pistachio kernels. Drizzle with the Raspberry sauce.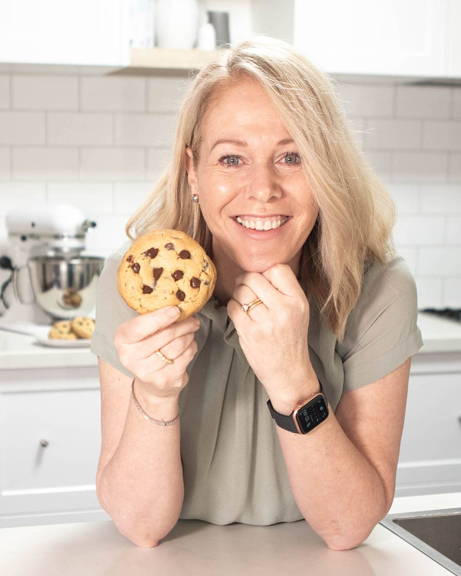 Sandie Deane is a recipe creator, food stylist and photographer based in Melbourne. However, it is her childhood memories of growing up in country Victoria, surrounded by her Grandmother and 4 Great Aunts that inspires her to share her love of baking.

Sandie is a strong believer in creating not just delicious baked goods, but also the wonderful memories that comes with it. And just like her amazing role models, she's created delicious nostalgic recipes for her own family, with 4 (now adult) sons.
These recipes can be found on her website Apple Cake Annie, which is dedicated to her Grandmother.
Christmas Baking by Minimax
Whether it's a snack for Santa, to hang on the tree or just for the fun of cooking with the kids, baking is at the heart of our seasonal celebrations. It's where you can take the time to craft something with care and have fun along the way. Minimax has your Christmas baking essentials covered.