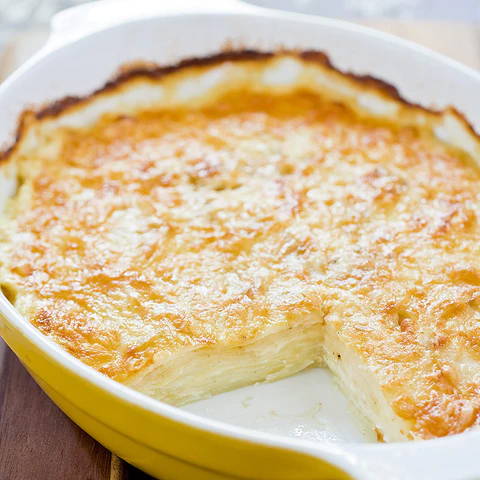 Potatoes Au Gratin, is a comforting classic that warms and soothes the soul. This simple side dish is made with just a few ingredients – Potatoes, butter, flour, salt, pepper, milk, and Gruyere cheese – to create creamy layers of flavour that will bring back memories of family dinners around the table.
3 tablespoons butter
3 tablespoons all-purpose flour
1 1/2 teaspoons salt
1/4 teaspoon pepper
2 cups 2% milk
1 cup (4 ounces) shredded gruyere
5 cups thinly sliced peeled potatoes (about 6 medium)
Preheat oven to 350°. In a large saucepan, melt butter over low heat. Stir in flour, salt and pepper until smooth.

Gradually add milk. Bring to a boil; cook and stir 2 minutes or until thickened. Remove from heat; stir in cheese until melted and then add the potatoes.

Transfer to a baking dish. Cover and bake 1 hour. Uncover; bake 30-40 minutes or until the potatoes are tender and have some color.
Minimax's carefully selected range of exquisite Emile Henry ceramic cookware.
Ceramic cookware is an excellent heat diffuser, allowing the food to gently cook and locks in flavor and nutrients.
Emile Henry ceramic bakeware - perfect pans for creating pies, soufflés, quiches, Crème Brûlée, and bread. The ceramic bakeware is easy to use. Slow and even cooking in the oven or microwave.
Emile Henry is more than a century and a half of tradition and expertise, passed down through generations of the Henry family. As they continue to create beautiful pieces that honour the traditional craftsmanship of their ancestors, each handmade piece is crafted with love, care and attention to detail.
Inspired by the heritage of Burgundy, each piece is made from locally sourced clay, allowing a unique connection to its roots. Their products are designed to last and enhance the enjoyment of your home cooking experience. With Emile Henry, you can enjoy beautiful ceramics that will be treasured for years to come.