A sweet and indulgent treat that's sure to satisfy your cravings. With its soft and fluffy texture, warm apple filling, and crispy coating, these doughnut bombs are the perfect dessert or afternoon treat.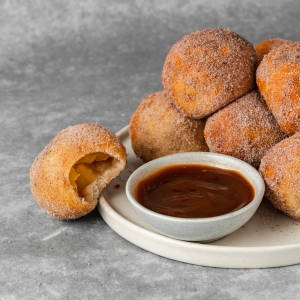 3 apples peeled and diced
1 tbsp water
50 g sugar
1/4 tsp cinnamon
1 tsp vanilla
1 tsp corn flour + 2 tbsp water
140 g self-raising flour
170 g 5% full fat yogurt
1/4 tsp salt
3 tbsp caster sugar
1 tsp cinnamon
20 g butter
Your choice of ice cream or caramel sauce to serve
Place the apples in a sauce pan, with 1 tbsp of water, sugar, ¼ tsp cinnamon and vanilla. Place the lid on the pan and cook the apples on a high heat until soft- about 3-5 minutes.

Mix the corn flour with the 2 tbsp water, then add the cornflour slurry to the apples. Cook, stirring continuously for a further minute until the sauce thickens. Remove from the heat and set aside.

Mix the flour, yogurt and salt together until it forms a soft and sticky dough. Form the dough into a round, then cut into 8 equal pieces. Roll each piece into balls, then use a rolling pin to roll them into a ½ cm thick circle. Spoon some apple filling into the centre, then pinch the edges together to enclose the filling.

Select Bake on the Instant Vortex, and set the temperature to 170°C and the time to 11 minutes. When the Air Fryer has preheated, place the bombs inside.

While the Air Fryer bakes, combine the caster sugar and cinnamon in one bowl, and melt the butter in another.

Once the bombs are cooked, remove the bombs from the Vortex, brush them in melted butter and roll them in cinnamon sugar. Serve immediately nice and hot.
Instant Pot Multi purpose appliances are versatile and efficient, bringing ease, speed, variety and healthy options to our everyday cooking needs. Multitasking miracle workers, they tap into our desire for convenience and address our aversion to kitchen benchtop clutter.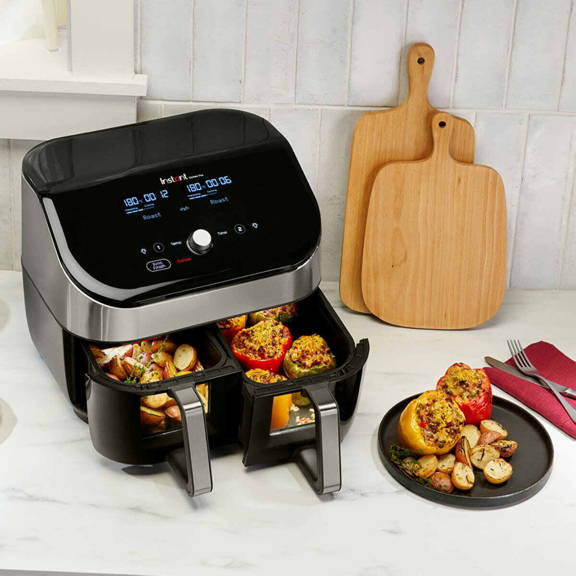 Explore the Air Fryer Collection
Elevate your cooking game with Mininax and experience the joy of healthier, delectable meals. Whether you're looking for the versatility of an Instant Pot air fryer or the trusted performance of a Philips air fryer, Mininax has you covered. The Philips air fryers and its accompanying accessories are exclusively available online.